Ellen Allien
title

My Parade

label

Bpitch Control

format

various artists CD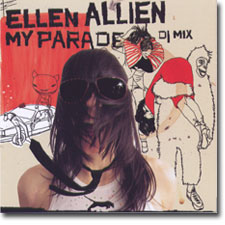 Ellen Allien takes a look back in 2004 at her years with the Bpitch Control label on the My Parade DJ Mix cd as a companion release to her Remix Collection. Whether you consider her an artist or a label head, Ellen Allien has taken a creative break this year with these two cds and as the times change and the music world broadens and splinters Ellen Allien mixes it up.
The My Parade DJ Mix cd probably seemed like a good concept. Take a bunch of Bpitch Control tracks and mix them in with some other "classics" that Ellen Allien loved. The problem is that Ellen Allien has never really been the cutting edge figure she wishes she was: she's too much of a follower and mimic to come up with a truly cutting edge and crucial mix of the old and the Bpitch Control roster.
Things never really click on this rather short mix cd (clocking in at 50 minutes). It sounds like she's trying to join with the Paul Van Dyk crowd (and the 90s techno scene). Ellen Allien bookends the Bpitch Control b-sides with the dated pop of Midi Rain's Always, the synthy goodness of Wild Planet's Electron, Dr FeelX's useless rap in Relax Your Body, the holding patterns of both the Step Time Orchestra's Fancy Theme and Plaid's Squance which both sound like canned library music for a European car commercial, CJ Bolland's Mantra synth workout, Ellen's own Dresden which was an early release on Braincandy, Ola Bergman's box-rhythmed Vulture's End and Andre Estermann's ender Plash.
The Bpitch Control tracks are crammed in the middle of this mess and include Ellen's own Bang Bang, Modeselektor's Rave Anthem, Apparat's Cheap Thrills (an electro dub work out which is the highlight of the set) and Tomas Andersson's Numb. While this section of the mix is by far the highlight, there's loads of Bpitch Control music that she could've included to create not only a true label spotlight, but probably a much better mix.