Like An Atom Bomb
title

Like An Atom Bomb

label

Buzzola

format

various artists CD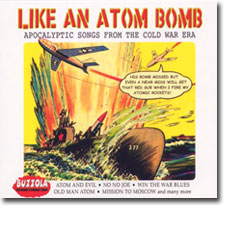 With four other themed collections on the shelves, Buzzola is a new label following the lead set by Trikont in releasing themed compilations of old time music, put together with love.
Like An Atom Bomb collects songs recorded in the years after 1945. The styles of music vary from gospel to country to beat to bluegrass to blues to bebop. All the tracks were chosen because they have real passion, and the artists play from the heart.
My favorite tracks are Billy Hughes & His Buckaroos Atomic Sermon, The Sons of the Pioneers Old Man Atom, and Slim Gaillard's Atomic Cocktail.
Buzzola has also released Reefer Madness - a collection of vintage drug songs 1927 - 1945, Sugar In My Bowl - hard drivin' mamas - vintage sex songs 1923 - 1952, and You Done Me Wrong - vintage country cheating songs 1929 - 1952.