Berlin 2001 compilation: A & B
title

Berlin 2001 compilation: A & B

label

format

various artists 12inch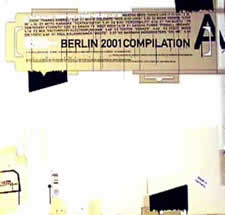 Simply for presenting the Ellen Allien cut Sweet, I am in love with this 12'.
'Sweet, salty: you are my body shake maker' says the lyric, over a beat that is only slightly removed from The Normal Warm Leatherette. This is a vocal song with teeth and a solid bite. Very sexy.
Ellen Allien runs Bpitch Control. She has a CD, two 12's and the mix CD Flieg Mit Ellen Allien released under her own name.
Trike's song Topless shares the A-side with Sweet. It is an instrumental and does not leave a lasting impression on me.
On the flip Martini Bros. have Dance Like It Is OK, a vocal track that sticks in your head easily.
Dash end the 12' with Thanks Gabriel. It is a very techno instrumental that has cool sounds, kind of like stuff on the Shitkatapult label.