title

Remix Collection

label

format

CD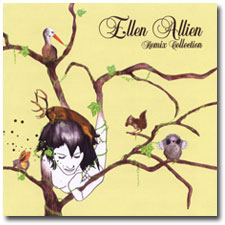 I was surprised to find that this was a single CD. It cost a bundle where I bought it here in the US, and I believed that Ellen Allien had done enough remixes to fill a double disc.
The 10 tracks that comprise 'Remix Collection' move by really fast. The whole CD clocks in at 47 minutes.
All the songs work together almost as if this was an Ellen Allien CD itself. In fact, Ellen Allien always leave such a strong identity print on the remixes she does that it almost is an Ellen Allien CD.
Sascha Funke - Forms & Shapes RMX
The CD starts off with a remix that she did for a 2003 12inch which came out on her label. I like Sascha Funke's music, and like this mix allot as well.
Gold Chains - Let's get it on RMX
This mix came out in 2003 on Pias Recordings in the UK. Gold Chains is a Tigerbeat6 rapper, and this track sounds like ghetto-tech, as popularized by artists like DJ Assault. As such, it is a bit naughty, but not scathingly so. the female vocalist does say the F word, but only once, and quickly.
Vicknoise - Chromosoma 23 RMX
The lyric she added to this tracks reminds me of her Sweet song on the Berlin 2001 Compilation. It originally came out in 2003 on Factor City records
Apparat - Koax RMX
Sascha Ring runs the Berlin record label Shitkatapult along with Marco Haas. This track appeared on the Apparat 12inch 'Koax' on Bpitch Control in 2003. It is an instrumental which reminds me of Joy Division, though I can't quite place which track.
OMR - The way we have chosen RMX
OMR are a French band. This track came out in 2003 on Uwe Records. The song has both original female vocals and added vocals from Ellen Allien. The song sounds like it could have been on her 'Berlinette' CD.
Barbara Morgenstern - Himmel RMX
Barbara runs the label Monika enterprise and is always an interesting artist. The track has a dirty bass line and a pulsing ring. Ellen Allien added a bit of the vocals from her Alles Sehen song..
Ellen Allien - Alles Sehen RMX
This mix was on the 12inch for Alles Sehen, which many of you probably already own. nonetheless, it sounds good here and works in the flow of the disc, particularly as it follows a song she used parts of the lyric from the same song on.
Covenant - Bullet Flow-RMX
My favorite track on the disc. The lyric sounds so familiar that I thought she reused words from one of her songs, though the lyrics are credited to Eskil Simonsson of Covenant.
Gut-Humpe - Butterfly butterbump-RMX
This track came out in 2001. Gut-Humpe is Gudrun Gut and Inga Humpe, both members of the Oceanclub. It was taken from their 'Gut' album on Moabit Music, a subsidiary of Barbara Morgenstern Monika enterprise label.
Miss Kittin w. Goldenboy - Rippin Kittin RMX
This mix was the rage when it came out in 2000. Miss Kittin featured it on a mix CD she did for the July 2002 issue of Muzik magazine (issue No. 87). The magazine published its last issue in August 2003 and is now history.