Pet Projects - The Brian Wilson Productions
title

Pet Projects - The Brian Wilson Productions

label

Ace Records

format

various artists CD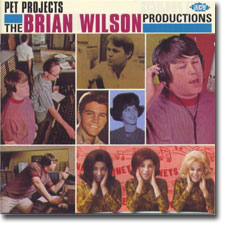 The mystery of the Brian Wilson productions has finally been solved, thanks to the 23 track cd compilation Pet Projects: The Brian Wilson Productions on Ace Records out of the UK. The years of trying to track these recordings down and make some sense out of them are over.
During the early enthusiastic days of The Beach Boys, Brian Wilson did some outside production because of the abundance of ideas he had at the time, but also for fun and to help out his friends. Sadly, none of these productions were successful commercially, but it definitely helps to paint a more well rounded picture of a man with so much to offer. Little known single sides by the likes of The Honeys, American Spring, Gary Usher, Glen Campbell, Sharon Marie, The Laughing Gravy (really Jan & Dean minus Jan in the late 60s), Paul Petersen, The Survivors, and Rachel & The Revolvers.
The majority of the songs are by The Honeys, the girl group that Brian worked with in hopes of mimicking the surf sound for girls, and from which he found his first wife. The Honeys music has been compiled on The Honeys Collection from 2000, and while that compilation is still available, I never tire of hearing The Honeys, and their later, early 70s incarnation American Spring. The Honeys were an enthusiastic group of girls who might not have had a lot of talent, but made up for it thanks to their candor and spunk. Songs like The One You Can't Have, He's A Doll, Pray For Surf, and Shoot the Curl are classic girl group recordings, often with that amazing Phil Spector inspired sound that Brian was trying to hone into his own sound. In the late 60s, The Honeys also cut some sides in a more subdued late night girl sound, with Tonight You Belong To Me and Goodnight My Love, which reminds me of what groups like The Four King Cousins or The Forum were doing around that same time: sweet vocals with lush backing. This sound carried over to the American Spring recordings, which is a lost masterpiece from the early 1970s (incidentally, the American Spring recordings have gone out of print and are most certainly overdue for a reissue). I think you can even hear some of the madness Brian might have been feeling in the off kilter structure and syncopations of songs like Shyin' Away and Fallin' In Love.
There are a few other highlights, some songs I had never heard which made this collection well worth it for me. Sharon Marie is one of the most talented singers in this set, but apparently disappeared from the business after working with Brian Wilson. Her version of Thinkin' About My Baby is breathtaking. This song was later recorded by American Spring in the 1970s, so I'm sure Brian had hopes that this song would have been big. I don't think this song has everything it needed to be successful, but it is an amazing lost treasure. Sharon Marie also shines on a remake of the Porgy and Bess classic Summertime and The Story of My Life. The latter song is probably not even a good enough song for her to perform, as is the set opener Run-Around Lover. It's too bad, because she really has some fine vocal chops; it's sad she disappeared into the mists of time.
Jan & Dean fans, as well as Beach Boys' Smiley Smile fan, will be happy to hear the odd but wonderful Laughing Gravy version of Vegetables. This would've fit fine on the Jan & Dean album Save For a Rainy Day (though it isn't about rain, of course!) which I believe was recorded around the same time. I love the middle break when Dean has a solo which builds-up to the conclusion.
While The Survivors' A-side Pamela Jean is not that great, the B-side which was intended to get DJs to be sure to flip and play that A-side is the real keeper of the two songs. After The Game is a sublime instrumental not unlike other Beach Boys' instrumentals of the day like Summer Means New Love, but also a precursor to the sounds to come on Pet Sounds.
Gary Usher, one of Brian's best friends, is given a shot at vocals on the folk rockin' Sacramento. While his vocal chops leave a lot to be desired, and the musicians seem to be walking on eggshells, there's something endearing about this song. I'm certain it'll drive some people batty, but I found myself humming along. Things are less endearing on the flipside That's the Way I Feel.
Glenn Campbell was given a Brian Wilson song in return for covering for Brian on a Beach Boys' tour for a few months. Guess I'm Dumb is one of those mysterious songs I read about but never heard until it was included on The Honeys Collection cd. It is most definitely a lost masterpiece well worth it's classic status, as it foresees the orchestrated confessional sound of Pet Sounds, while still retaining hints of why it failed to chart.
Personally, I could live without Rachel & The Revolvers. The Revo-lution is a Loco-motion rip-off that was a mistake to begin with, and the B-side is worse. There's no doubt however that once you hear The Revo-lution, that song will be stuck in your head for days. The Paul Petersen song She Rides Me is an odd Beach Boys sound-a-like that can only pale in comparison, though it does have that strange voices through Leslie speakers.
It's too bad that Ace couldn't include every Brian Wilson production due to contractual constraints. It helps that the sound on this compilation is incredible, thanks to the mastering from the master tapes. Ace really outdid themselves with the liner notes, too which are an interesting read. There was a lot of love put into this compilation. Hopefully now someone will take this compilation one step further and reissue the American Spring album.