Holger Czukay, Jah Wobble, Jaki Liebezeit
title

Full Circle

label

Caroline

format

CD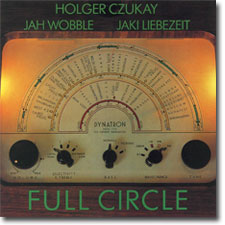 Jah Wobble (who had played in early Public Image Limited), and Jaki Liebezeit and Holger Czukay (both from Can) worked together on a number of albums in the early 80s including Holger Czukay's solo albums On the Way to the Peak of Normal from 1981 and Rome Remains Rome from 1987, Snake Charmer from 1983 (without Liebezeit, but with The Edge), and Holger Czukay's Der Osten Ist Rot from 1984 (without Jah Wobble). The three also released Full Circle in 1982 credited to all three, and this cd version of this album was released in 1992.
The Full Circle album was preceded by single releases in 1981, including the How Much Are They? 12 inch (which also included Where's The Money?, Trench Warfare and Twilight World which are also here) and a 7 inch version of the same song with only one of those tracks. How Much Are They? was a classic release alongside other releases from 1981 that were sample heavy dub workouts like Brian Eno & David Byrne's My Life in the Bush of Ghosts, but Wobble, Liebezeit, and Czukay leaned more towards the dub and often added their own raw vocals to the mix.
Of the 4 songs, How Much Are They? is definitely the cream of the crop, with its driving rhythm box, chanted, fractured vocals, blazing trumpet, dubbed out piano melody, sample snippets and, of course Jah Wobble's powerful bass.
Where's the Money? sounds like a Can out take, with Throbbing Gristle styled vocal, but the fractured vocals (also similar to Throbbing Gristle) on Trench Warfare don't work as well since they sound like a first take (the heavier guitars are a nice addition though). Twilight World is an organ filled slower dub workout with gothic overtones in the vocals which remind me of Nick Cave in dub.
Full Circle also includes two songs that are part of the Radio Picture Series (R.P.S.), Full Circle (R.P.S. No. 7) and Mystery (R.P.S. No. 8), both of which are longer than the 12 inch tracks. Full Circle is the most song-based accessible tune, filled with pop song samples, plucked guitar accents and quietly spoken vocals in German. Mystery is a hissing dub track which also sounds like a Can dub out take. Both tracks are nicely extended dub tracks.