The Creation
title

Psychedelic Rose

label

Cherry Red Records

format

CD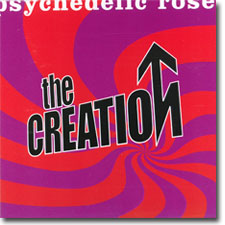 Psychedelic Rose gathers together tracks for an album The Creation recorded in the 80s that never was even titled, and never did come out.
Three of the tracks DID come out on a 12inch single. Lay the Ghost was the A-side. Lay the Ghost was the song that fueled the desire to make a new record. The lyrics spell out their feelings about the past history of their beloved band.
Eddy and Ken became friends again after a falling out in the 60s. They were the two principle writers, and they managed to get Polydor interested in funding a new record from them.
The highlight of the album is a new version of Making Time. It is not like there was naything wrong with the original, but the song is so good that it really can't get messed up, and this new version sounds different enough from the original to justify its existence.
Radio Beautiful is my favorite of the new tracks. It has stuck in my head for several days now, and is clearly the highlight of the disc for me.
Doing It My Way starts off sounding like Deep Purple Smoke on the Water, then goes into an anthemic 80s rocker with artificial drums. Like many other songs on this disc, the 80s band Cult is evoked rather strongly.
The CD includes a live video of Painter Man, a 60s Creation song that became most famous for the cover Boney M did of it. The video was shot at Mean Fiddler in North London in July 1993. At first I thought it was a competent but uninpiring clip of grey hairs doing a song they made famous 25 years before the filming date, but then the violin bowed guitar solo starts and the song slips into overdrive. The solo goes on for at least 2 minutes, and smoke machines do their think all over the place before the song breaks back into the melodic climax.
This CD is not what it looks like. I will bet that vbery few if any people who buy it end up liking it. I understand that it is not The Creation in their heyday, but the description on the sleeve does not give a clear picture of what the CD is, and tricks you into thinking this CD has the sound you love from The Creation.