Back to Peru
title

Back to Peru (the most complete compilation of Peruvian Underground 64-74)

label

format

various artists CD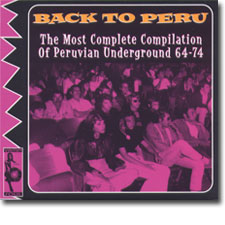 Purveyors of 60's music, having grown weary of dredging the annals of European and American garage, psyche, pop, rock etc. have in recent years turned their attention elsewhere. It hasn't been the first time but lately there seems to be a profound interest in music from the sixties that originated in more distant lands. The Far East for example and in the case of this compilation Latin America, more specifically the country of Peru.
If you think about the geography of Peru with it's coastal plains, the rugged Andean mountains, and tropical rainforests, a very diverse picture begins to emerge. Now hold that thought, apply it to the music found on this disc and that should give you a good idea of the range of styles showcased on this compilation. Everything from surf, Mersey Beat, cheesy organ driven garage, Andean psych folk and at least three songs by obsessive Hendrix devotees.
To clarify, the official title gives the years (64-74) which is a little odd considering the earliest tracks are from 1966. Still, eight years is a lot of ground to cover and by what I can gather from the somewhat obfuscating and poorly translated liner notes, the social and cultural milieu of those times proved to be an extremely fertile period for Peruvian music in all it's various forms. Indeed the liner notes describe the capitol of Lima as a place where, for every four blocks of the city there was at least one band, and out of every twenty bands, five of them were really good. My calculator tells me that's five good bands every 80 blocks which is not that bad considering the size of a city like Limo. The lack of a real music industry and access to proper recording equipment though is one of the main reasons that much of this music was lost or never put down in the first place. Nonetheless the folks at vampi soul have compiled a great time capsule of what has survived.
There are songs in Spanish and in English but on nearly every track the influence of American and U.K. acts is undeniable. You could throw the Termits track, Bailemos on any Ventures album and not know the difference except for the inferior recording quality. Some of the band names like Los York's, Laghonia, and Traffic Sound have all seen reissues recently but there are plenty of others that are making their cd debut. There's the track Wiched Man, yup, that's how it's spelled, from the band Smog. This ain't of the Bill Callahan variety though but rather it sounds like a cover of Purple Haze with different words.
Some of the most fascinating stuff on here are the songs that skip the impersonations and instead blend the popular outside influences with traditional rhythms and instruments. El Polen create beautiful spacious music with acoustic guitars, Andean flutes, electric bass and violin. If you've ever heard Simon and Garfunkel's El Condor Pasa, it's like that but way better and authentic. Radical political changes would take place in 1968 when a military coup would attempt to unite the country, implementing far-reaching economic and social reforms. Radio stations were obliged to play regional music in place of foreign or alien sounds, this included local ethnic versions of modern hits.
In 1970 a Santana concert was abruptly cancelled after 45,000 tickets had sold. One story is that there had been bomb threats by radical university students, the other was that the night before the show they were discovered in an orgy of drugs and sex with the daughters of some of Lima's most influential families. The changes that were taking place had a major impact on the rock scene and slowly it's growth was slowed to a halt. The music found on this album represents a golden period for rock and experimentation that existed in Peru for a precious length of time. It is a aural document and a great listen.