Gina X Performance
title

Voyeur

label

LTM

format

various artists CD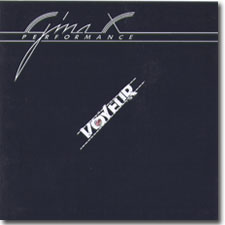 Gina Kikoine and Zeus B. Held worked together on Voyeur, their 3rd and final album as Gina X Performance in 1981, with an end result veering somewhere between shocking and ahead of its time and some been there done that music. The album was only popular in France when it was released, and from it's quirky electronics which date it quite a bit and its cutting edge themes, one can see why. And there isn't that final element that makes this album more than what came before it.
The best tracks found here are IC Code, Babylon Generation, Video Dragueur, and Hypnosis/Hypnose. Hypnosis/Hypnose was included as a bonus track on the Gina X Performance reissue of X-traordinaire and has some cool dual vocals by Gina X.
IC Code and Babylon Generation both have the best grooves on the album, though the keyboards date the tracks quite a bit. Video Dragueur has a forward looking theme about the voyeurism of video cameras and how we can now see ourselves and are being watched through video cameras wherever we are in supermarkets, parking lots and so on.
Tracks like Horror Vacui and Kaddish trudge along with both the rhythms and the keyboards dragging down any nonsense that Gina X may be singing about. Kaddish has a slinky, creepy feel to it. Horror Vacui has meandering synth lines and an off kilter chorus with male background vocals.
Pederast Dissection is even creepier sounding than Kaddish, and while it's more upbeat, again it seems to meander through a land of synths and Gina X vocals. It couldn've been a single from this album, if one had been released.
There's so many ideas tossed around in Hom Intern, it's like poetry put to music. It just keeps tweaking Gina X's lyrics to the fade out.
The album closing Kiruna finishes out the album with a dubby, ethereal edged track with the most memorable and bizarre chorus - the repeated "Kiruna, Kiruna, Kiruna" - and more of the bizarre lyrical content from Gina X.
These tracks seem to keep the band in a holding pattern. There's a definite edginess to Gina X's vocals though (and her lyrics) which help tracks like these - if only the dark themes were less oblique and the music more interesting. The end result is like a soundtrack to a smoke filled hardcore gay movie from the early 80s.
Since there were no singles from this album, there's no single b-sides or remixes that could be included as bonus tracks, so LTM included some modern remixes of No G.D.M. by Psychonauts and Lo Voltage, and a remix of Nice Mover by Lo Voltage. There's also an original remix from 1984 of Harley Davidson (100 MPH Mix), the original of which was released on Yinglish in 1984 on Statik Records.
The Psychonauts remix of No G.D.M. gives the track a sweetly elastic DeeJay Gigolo electro bassline while keeping the vocals intact. It was originally released on an International Deejay Gigolo Records 12 inch single in 2003, and also appeared on the International DeeJay Gigolos CD Seven compilation. The Lo Voltage Dub mixes of No G.D.M. and Nice Mover are both lengthy mixes which totally transform these tracks and give each track an underwater dub feel and are pretty sweet - adding 20 minutes to the disc.