Lou Reed
title

Berlin

label

RCA

format

CD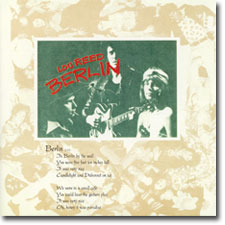 Released in October 1973, Berlin was Lou Reed's third solo record after his career as the fontman for Velvet Underground.
Berlin was the follow-up to the hugely successful album Transformer. His label (RCA) would give him anything to help him record another Walk on the Wild Side. They gave him Bob Ezrin as the producer. Bob had given many hit records to Alice Cooper, and was one of the best producers of his day.
But Lou Reed did not record another Transformer. Berlin was the first FU he gave the industry, topped only by his Metal Machine Music record of 1975. Berlin has a lot to offer, it just was not a glam album, and it was very down in spirit if you put yourself into the (wonderfully written) lyrics and got into the record.
The record starts off with the title song. It is a quiet track that I don't really like, though it sets you up nicely for the songs at the end of the record.
Lady Day has organ, piano, bass and drum and it very dramatic, but in a rock kind of way. The music is very cabaret styled. I'll bet modern bands like Dresden Dolls have looked upon this record many times.
Men Of Good Fortune are just awesome. The song tells how people who don't have any sponsors or patrons can be more productive that people who have it easy. After making a good case for his point, he tells us
and me, I just don't care at all
Caroline Says I is a fantastic track - my favorite on the record. It is the closest the record comes to a pop song, or a Walk on the Wild Side.
How Do You Think It Feels covers how it feels when you are speeding and lonely. When he talks about Caroline (the heroine of our story) taking speed you know he knows about what he speaks... Speed is like a bank account. It can give you energy, but that energy has to be paid back with interest, and unbalanced people who take it can become very depressed upon coming down. The song has some guitar solos that sound like more typical Lou Reed material, such as his classic Rock and Roll.
The chorus of Oh, Jim has horns and talks bitterly about life "when you're filled up to here with hate, don't you know that you've got to get it straight," and is not one of faves, nor is the slowed down ultra down spirited Caroline Say II.
The Kids is also very quiet, with acoustic guitar, electric bass, some slight slide guitar, Lou's vocal and little else. The song goes on for a long time. As it builds to its climax at 6:30, drums come in along with a flute and samples of a child crying and calling Mommy. The song gets quiet and returns to just guitar and voice to its closing at 7:45.
Now that he has his hooks into you (who can resist a child's plaintive wail), he punches us even harder with The Bed, another quiet song detailing the heroine of the record cutting her wrists in surrender to all the misery and difficulty around her. The song has great lyrics, like all the other tracks on Berlin. It is true art.
Sad Song closes the disc without any salvation, the survivor realizing that they are in the muck and need to re-evaluate. The song has woodwinds and strings, and sounds like it is a song from a broadway play. If a way it is, as Berlin is a story carried all the way through. The chorus
I'm gonna stop wastin my time
Somebody else would have broken both her arms
Berlin can be taken as an artful whole, or enjoyed by playing track 2, 3 or 4. For those three tracks alone the record is well worth buying.