Anthony Rochester
title

Music For Librarians

label

format

CD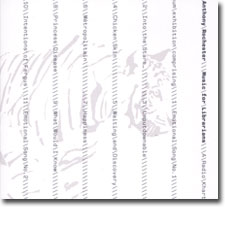 Anthony Rochester is a pop artist from the Australian territory Tazmania. This is his second record, following the 2001 full-length Music for Listening & Relaxation.
Anthony plays all the instruments and sings on the songs. Though his voice is different, the complete vision of his work reminds me of the Boston artist Don Lennon, who also has a somewhat odd voice and who also knows exactly what hew wants his music to sound like, only using guests when they can contribute something he could not achieve without them.
The guests Anthony uses are artists whose work you may already know - Norwegian artist Christer Jensen (Micromars) and Welsh songwriter Matt Jones alias Norman de Plume of The Hepburns. Though each only appear on a song or two, the Anthony Rochester sound bears comparisons to the bands these artists play in.
Into the Stars.. has a bit of a Trembling Blue Stars feel due to the electronics and female backing vocals. Like Bobby Wratten, Anthony Rochester recognizes a good melody, and writes songs that can stick in your head for days.
Métropolitain has wordless backing vocals by a neighbor with a voice like the vocalist in the original theme from Star Trek, whom he heard singing down her street to call her cat. He uses her to provide Star Trek-esque vocals behin his on this track. The music has piano up front, with a light electronic feel.
Princess Disease is my favorite song. I love everything about the music, with its Motown-styled snare and tamborine to the disco-styled cowbell. There is a nice flute solo, and the lyrics are sung in an upbeat melody.
Due to Anthony's vocals, Music For Librarians has a very indie and twee sound. If you like bands on Matinee, Elefant and Siesta Records, there is a very good chance you will love almost all of this record.