Rhys Chatham
title

An Angel Moves Too Fast to See

label

Table of the Elements

format

3xCD Box Set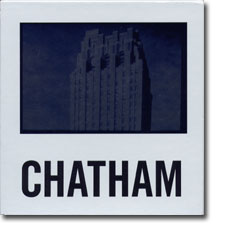 We've been waiting all year to get our hands on the Rhys Chatham box set An Angel Moves Too Fast to See and finally it's here. We were teased by the addition of the Rhys Chatham Compendium to our library, but that was simply not enough of a thorough collection, and merely whetted my appetite for more. Anyone who has heard Rhys Chatham in the past (and there are many of us) would be as enthusiastic about this collection as I am, and for good reason. An Angel Moves Too Fast to See is a three cd set which includes the bulk of Rhys Chatham's work for guitar ensemble (works from 1977, 1982, 1985 and 1989), and brass and trumpet (1986 and 1982). There is the added bonus of a very early work of his from 1971. There also is an incredibly in depth booklet which accompanies the music. All of this is compelling reason enough to check out this incredible box set. For those who have never heard Rhys Chatham, this collection is a reason enough to believe that the guitar is not dead in music.
The first disc includes one of Rhys Chatham's first compositions from 1971, Two Gongs. Having worked with Morton Subotnick and met Charlemagne Palestine, Chatham became interested in pieces of long duration. Two Gongs is just over an hour long and takes up the entire first disc. It is a compelling first entry and does foretell the intriguing sounds that Chatham would later elicit from electric guitars. Definitely, an ear opening work I had never heard, which shows his connection to the early minimalist much more than his later work in his use of 2 large Chinese gongs.
Disc two is the most varied disc in the set and includes the bulk of Rhys Chatham's most famous work. Starting with Die Donnergotter (1985), a 20 plus minute opus for guitar ensemble, this is one of Chatham's most stunning work. Taking the chiming guitars through an elongated 3 minute introduction, which sounds like the end to a rock opera, Chatham lets the drums and guitars interact in an amazing way that only could occur at very loud volumes. Following through the piece at various rhythms and speeds, the piece has an ebb and flow which coincides with the sliding melodies and timbre's of the guitars.
Drastic Classicism (1982) is the next piece based around guitar ensemble and it is a beautiful, harsh experience which has to be heard. Combining a crunching guitar and a pounding rhythm, Chatham takes guitar rock to another level. I'd love to hear this one live. it definitely had an influence on the noise guitar bands of the 80s, but without the trappings of a poorly written song.
Guitar Trio (1977) is the last piece on disc two to include guitar ensemble and is a wonderful piece of minimalism. The first time I heard it, I thought it was an Unrest song, then come to find out it was composed in 1977, I was floored. It's been a favorite of mine ever since. Anyone with an interest in guitar playing should hear this piece, which centers it's attention on the low E string for its duration.
Waterloo, No. 2 (1988) includes Rhys Chatham's interest in brass instruments and military drumming. It's a fun relaxing piece reminiscent of Phillip Glass played by a marching band. Massacre on MacDougal Street (1982) is a stormy piece for brass and includes some stellar trumpet composition.
The final disc includes the five part An Angel Moves Too Fast to See (1989). This composition is for 100 electric guitars, bass and drums and is similar in structure to Die Donnergotter but on a much larger scale. What makes this piece work is the time and energy Rhys Chatham put into the actual composition of the piece. Rather than simply amassing a huge amount of guitarists and letting them wail, the piece has an elegant ebb and flow to it which helps create a wonderfully ethereal experience throughout the entire 40 plus minute piece.