Channel 2 - A Compilation of Output Recordings
title

Channel 2 - A Compilation of Output Recordings

label

Output Records

format

various artists CD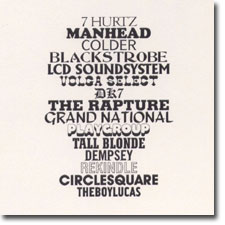 Output Recordings give us an excellent label sampler in CHANNEL 2 - a compilation of Output Recordings . Output have done wonders with their 7 inch singles and CD5s, so it's great to be able to get a bunch of them all in one place.
Artists included here are 7 Hurtz , Manhead , Colder, Black Strobe, LCD Soundsystem, Volga Select, DK7, The Rapture, Grand National, Playgroup, Tall Blonde, Dempsey, Rekindle, Circlesquare, and The Boy Lucas.
First and foremost, I must say that I've loved everything I've heard by LCD Soundsystem, although, I've only heard a few songs. I also really dig Playgroup. Those two groups sum up this compilation for me quite well, and I do believe the LCD Soundsystem song Losing My Edge will be doing big things.
There really is no one sound that defines Output Records , which is a good thing, because this compilation doesn't ever get too bogged down in anything. 7 Hurtz starts out mellow and ambient. Manhead is laidback, soulful and dubbish. Colder has a great backbeat, kicking bass, mixed with soothing male vocals which remind me of a cross between Can and 80s brit-pop.
Black Strobe's Me and Madonna is an electro pop duet with disenchanted female vocals and aggravated male vocals, which would sound great on the dancefloor, thanks to its New Order styled guitar solos, and its Madonna/MTV flair to the lyrics ( Into The Groove ). LCD Soundsystem's Losing My Edge sounds like an electro Fall and is sure to be a college radio hit (a la Le Tigre's Hot Topic ), thanks to the pop references.
Volga Select bring us some Tangerine Dream synth sounds on The Unconditional Discipline Of The Bastard Prince. The last track I dig is Dempsey's ODB On The Run, which has a sample from The Johanna Group's Strange Love Action (which was featured on Luke Vibert's Nuggets disc and is something I play on my radio show a lot, in fact!), combined with police sirens and soulful vocals. It has a really cool retro blaxploitation styled sound reminding me of Melvin Van Peeble's groundbreaking soundtrack to Sweet Sweetback's Bad Asssssssssss Song.
Some stuff here was generic, and not my bag like Rekindle's Ice Skating Girl (like 80s Prince production or J-pop, but not very distinctive), Circlesquare's Non Revival Alarm or The Boy Lucas' There Are Great Monsters Going Past . Overall though, the best here makes for some awesome stuff.