Nanospeed
title

Kopernikus

label

format

12inch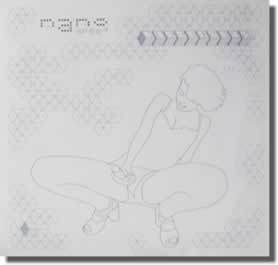 Nanospeed is Roland Fiege, from Berlin. Kopernikus is his second release on Shitkatapult. The 12inch From Nano to Slomo was his first.
Kopernikus is a six song EP of broken glitch instrumentals. It starts with Hobel. Hobel has vocal samples which sound right at 45 RPM, though the EP runs at 33.
When this curious EP came out in 1999 I can't imagine what people must have thought. Listening to it now in late 2002, Kopernikus sounds right at home on Shitkatapult, the label Marco Haas has built so high, just as Marco Haas' own music recorded as T. Raumschmiere seems to be taking off.
Heatwave is slow and moody, more like electronica than digital glitch. I really like the track. It builds, and has a cinematic feel. Heatwave features a simple three note melody played on piano. The simplicity and effectiveness remind me of Roy Budd's classic theme to Get Carter.
Happy 80's also is slow and moody, with a chiming key that reminds me of OMD's song Electricity.
Flip the wax over and side 2 starts off with Technikschaden. Technikschaden continues the slow and mysterious, but overlays it with all sorts of crazy sounds. To me, it does not work particularly well, as it is too electronica for the broken glitch set, and too noisy for electronica.
Moogie Blues does work. Moogie Blues is my favorite song on the EP. It sounds like the middle break section in Kraftwerk's Robots, mixed with the sound of someone removing a heavy concrete cover from a crypt. It reminds me a bit of Smash TV and Bell as well. I think that Moogie Blues is worth buying the Kopernikus EP for.
Quicky closes out the EP. It is a very busy track that reminds me more of someone turning all the knobs every which way,than of someone planning a wild track to close out their EP with. Still at 3 songs out of six, Kopernikus is a decent find, enhanced by the greatness of my favorite track Moogie Blues.