Ko and the Knockouts
title

Ko and the Knockouts

label

Sympathy for the Record Industry

format

LP/CD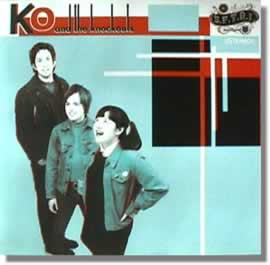 Ko Shih got a late start playing in bands, but quickly made up for lost time. The first band she was in (playing organ), The Come Ons, is really great (and still soldiering along without her). Then she played bass in the Breakdowns. When the time came to form her own band, she brought along Breakdowns drummer Jeff Klein; Eddie Baranek (guitar and sometimes vocals) from the Sights was last to join.
Ko and the Knockouts play soul and R&B-influenced pop that at times recalls the early Beatles (remember when their repertoire included lots of Motown and American girl group covers?).
Ko has a pleasant voice that takes a bit of the edge of the more rockin' songs -- without wimping them out. The guest musicians on this album are a veritable Who's Who in hot Detroit rock: Steve and Jeff from the Detroit Cobras, Jason from the Von Bondies, and Jim Diamond from the Dirtbombs.
My favorite tracks include 'Black and Blue' (first heard last year on the Sympathetic Sounds of Detroit comp), 'Go-Getter,' a cover of the Birds' 'You're on My Mind,' 'Cry No More,' and the bluesy ballad 'You Did It.' Admittedly a few tracks have me wishing for stronger, more soul-shouty vocals (ala the Detroit Cobras) -- esp. the cover of the Marvelettes 'Twisting Postman.'
My ultra-favorite track is a cover of Nolan Strong and the Diablos' b-side 'If I, Oh I' (I'd bet dollars to donuts that WZBC DJ Paul Collegio owns at least one copy of that 1959 single). I love the Knockouts' version as much as I love the Detroit Cobras cover of 'Village of Love' (which the Diablos also covered in 1964) and I REALLY LOVE that song.