Unrest
title

Imperial Full Frequency Range Recording (Deluxe Edition - 9 Bonus Tracks)

label

Teenbeat

format

CD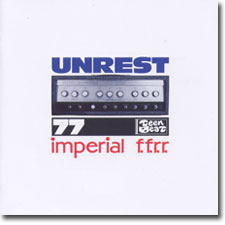 The jewel of 1990's indie pop has many facets. The band Unrest was one of the deeper cuts in the diamond of indie pop. Many bands came and went but Unrest endured. The band also made some smaller tracts in the lexicon of indie pop with spin-off bands, Olympic Death Squad, Air Miami, Velocity Girl, Flin Flon, Grenadine and Tone.
Unrest is lead by Mark Robinson on guitars, Bridgett Cross on bass and Phil Krauth on drums. Robinson and Krauth co-produced and were aided by Wharton Tiers known for his guitar engineering for indie influencers and bands such as, Glenn Branca, Sonic Youth, Dinosaur Jr. and Helmet.
Another shining example set by Unrest front man Mark Robinson was the label Teen Beat. Named after the teeny bopper magazine highlighting Shaun and David Cassidy, Donny Osmond, John Stamos and generations of teen heart throbs, the name envokes a syrup sweet and dreamy adoration bordering on obsession. The first release from the label, a compilation cassette-Extremism in the Defense of Liberty, came out in February of 1985.
When Robinson was a high school student he formed the D.C. band Unrest with bassist Tim Moran and Krauth. TeenBeat, his label, began to release, his band, Unrest's material. Not a novel concept but a courageous undertaking for a young man with a vision. The do-it-yourself method gave TeenBeat, and its bands, the assurance of quality, a brethren of pop devotees along with sound and visual control removed from the major labels and "indie" labels hiding under the cloak of the corporate demons. The label had a solid opportunity to release music that was eclectic, odd and offbeat pop.
Twenty years has now passed and TeenBeat has remastered and re-released the 1993 opus Imperial f.f.r.r. (including nine bonus tracks). Remastered by the DC producer/musician/designer Trevor Kampmann (hollAnd) who worked for TeenBeat and the March label and founded his own label, PulCec. Unrest keeps the release under the auspices of their community.
Critically acclaimed, Imperial f.f.r.r. is suggested to be a "near perfect pop masterpiece" and continuing their pop sound, vision and their tradition of experimentation. Mark Robinson designed the cover under the name TeenBeat Graphica. Mark is a devotee of the 4AD and Factory labels. Label that are/were known for their elegant designs as well as influential musical offerings.
The first full-length Unrest release had separate graphics of the 1,000 plus editions, including separate titles for each individual LP, a true graphic commitment. This package is simple with no history or liner notes beyond credits and lyrics with a single painting by Isabel Bishop (1902-1988), yet crediting six of her paintings. The cover is the original with slight variations. Volume Reference Tone is the first "track" but is audio toning that leads into the true opening track, Suki.
Suki, starts off with jumpy and jangley, quickly strummed, bright, guitar chords. Sweet and upbeat with pushing drums add a toe-tapping kick. The bass line is and the mix is tight. The vocals are poppy and ethereal. Dreamy pop never sounded so good.
More laid back the title track, Imperial, enters with a bass and guitar atmospheric interplay. It is sweet and nostalgic. Bridgett Cross takes on the vocals. They teeter on the edge of innocence and sadness found in Naomi from Galaxie 500. Cross's vocals then retire to Robinson's and then return in harmony with his to create a vast and pretty indie pop give and take. Soaring and propulsive with a tender romantic restraint the sound is incredibly pretty. Synth tones come in to make a spacey and heavenly outro to the loveliness that is, Imperial.
I Do Believe You Are Blushing, is another pretty and romantic piece of pop. The sound is slightly off kilter and out of tune adding innocence and grace. The guitar and bass combine to make a fervent accord that expresses the desirous intrigue of attraction. Electric guitar yields to acoustic as the song concludes. This is a very beautiful and mature work that retains tenderness and purity.
Instrumental and funky, Champion Nine has a really odd mix to it. The beats are tight and the bass gives a big bottom to the cut. With a backing track that resembles a school bell fire alarm with tinkling percussions and gongs like foghorns, it is a weird, yet, perfect mix. From my own description it sounds like it would be annoying but is not, at all. This is cool funk and in the tradition of early Luscious Jackson. The funk creates a mysterious and atmospheric quality to an ingenious instrumental.
Sugarshack continues the instrumental duo of songs. Sugarshack has a funky quality but is "countrified". Acoustic guitars strum in an attack with banging drumbeats to create another fantastic instrumental with dead-on vision and experimental sound mixing that creates a highly enjoyable listen.
Cherry Cream On is the song that is lauded to be a pop masterpiece. Fast driving and jangling with the drums and bass creating at a fast, up-beat pace. The vocals are a little weak but add to the naiveté. The track slows down with a great come down of guitar sounds and chime percussions. It has a pushing sexual feel with sweet release coming at the end in an exhausted and swirling conclusion.
Firecracker starts with a repetitive guitar slam chord. Not brash but derisive it makes for an edgy instrumental cut. As the song concludes a fire siren comes in to end it. The band really has a knack for creating instrumental pieces that take from a truly eclectic sound catalog. It maybe just experimentation but it comes across as a well-plotted, deliberate execution from a highly trained set of ears.
Loyola. With Fall like background voice/vocals sounds like it is going to be mainly instrumental but the vocals come in halfway. The track takes many twists and turns. There is some very interesting sound and structural experimentations at work on Loyola. A rawness saturates the sound more than any other song on Imperial. Still retaining a beauty and sweetness that is the basis of Unrests sound it is not pop in a traditional sense. The music fades out while still seeming to have more to offer. Robinson's vocals declare, "Would you die for me" as the track slowly diminishes to silence. A really interesting piece of music that may not be the "popular" track but shows a real grasp of structure and production mixing with emotional expression.
The section of bonus tracks (labeled addendum in the CD track listings) begins with a Can-like instrumental called Hydrofoil One. An ode to Mother Sky and Kraut rock it is a worthy homage with a quick end.
Next is a nearly 14 minute track, Full Frequency. A hushed and acappella opening it sounds like an indie hymn but is really a reworking of the song Imperial. Long and languid it flushes out the simple beauty and essence of the original track.
Isabel is a reprise of the earlier, and weakest, track on the album. This is a better rendition than its album appearance. This version is more melodic and solid and far less syrupy and direct.
Cherry, Cherry seems like a alternative version of Cherry Come On and it is. Like Isabel's alt-version it is more "to the point" and less affected. In this case the album version is better. The first appearance is more radio friendly, refined and energetic with better vocal work.
Wednesday and Proud is a soft and languid song that is mainly drum with bass enhancement and guitar note noodling. It leans towards "shoe-gaze" but is too experimental to fall fully into that categorization.
Empire sounds like an early version of Isabel. This time it is falsetto vocals that are not fully understandable and a bit grating. The music is nice. Rip-off also sounds like an early attempt at Isabel. A nice instrumental track that sounding as though it is the song Empire, sans the high-pitched vocals.
The final bonus track Chdemo is a musical origin of the song Cherry Come on. All versions of the bonus tracks are the band working out the sound that became the final versions of the Imperial f.f.r.r. recordings. It is an interesting addition that adds an extra flavor to the album. The listener also gets to hear the band figuring out the final sounds. It is a peak into the inner-workings of Unrest.
I will admit that my knowledge of Unrest was weak. I knew their most known, classic track, Yes She is My Skinhead Girl. I had heard Air Miami and actually saw them. I never fully grasped the Unrest sound but I certainly knew that they had a devoted and ardent following.
Imperial f.f.r.r. has certainly lived up to its hype. A masterpiece, I can't really grant that. But a solid piece of well worked pop and sound production, certainly. This is a really great record. The 1990's indie scene had a lot of jangly and poppy bands but few reach the heights of this collection of recordings. The dedication to the sound and early influences are apparent and the music lures and intrigues the listener. The true test of this material is in how well the work has aged. The songs created here are just as vital today as they were when they were first released in1992. The instrumental tracks are just are strong, if not stronger, than lyrical tracks and go beyond their pop moniker. Very few albums can tout that every track is a worthy listen even at its weakest moments.
For fans of Unrest, they will enjoy the CDs gingerly remastered production and bonus material. For the interested listener you will find many shining gems of indie-pop to add to your collection.