Contriva
title

Tell Me When

label

Monika Enterprises

format

CD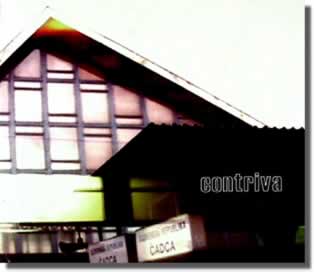 'Tell Me When,' released in 2000, is Contriva's first studio album. Contriva formed originally as a trio in Berlin in 1996, but it wasn't until they added a keyboardist the following year that they actually developed as a cohesive band.
All the songs on this album are instrumentals except for Next Time (5). The lack of vocal parts force the melodies to stand on their own, conveying a mood filled with melancholy and calm. In one of the faster rock songs, Don't Go (For It) (2), one feels the energy and strength of the music. It has a good, upbeat rhythm and a nice organ melody. The other rock song on the album, Mike (6), is much louder and harder.
Cool Out For Summer (3) is one of the first standout tracks on this album for me. The music reminds me of the early work by the pop group Ivy. It begins with long guitar notes that sound like a sigh. Then, a gentle melody from an acoustic guitar smoothly kicks in and you can't help but fall in love with it. The following song, A Little Bit of., also has that same indie pop quality that's very sweet.
Next Time (5) features vocals from Contriva's female bass player, Masha Qrella, who just released a solo album called 'Luck' on Monika and who also plays keyboards in Mina. Until Recalled (7) starts off in the same way as Cool Out For Summer, with long guitar notes. Though, the bass and acoustic guitar standout more on this. These two songs are both among my favorites.
Stuck (8) starts with dramatic keyboard chords, yet the familiar gentle strumming from the guitars soon enter. It sounds very similar to Next Time.
Contriva will release a brand new album in January 2003. I can't wait to hear more!