Funkadelic
title

Funkadelic

label

Westbound / Ace

format

CD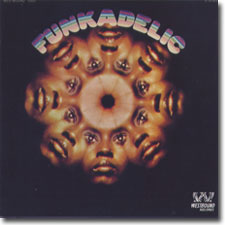 Funkadelic rose from the ashes of George Clinton's soul group The Parliaments (who later recorded as Parliament) and released 7 albums and a slew of singles on the Detroit label Westbound. The UK label Ace has joined forces with Westbound in a splendid reissue campaign, reissuing the Funkadelic albums with their respective single sides as bonus tracks, in a series of cd reissues which outshine any Funkadelic reissues that came before.
Funkadelic's first album was already a formed whole since George Clinton had already been working together for years with the members that made up Funkadelic, even releasing some early singles on his own Funkadelic record label before signing with Westbound (not included here). Joining the Funkadelic crew during the recording of this album were also some new faces and some who were just there to help out like Bernie Worrell (who later became a full fledged and key member of the band), members of the Parliaments, some Motown session musicians and Rare Earth's guitarist, Ray Monette.
Ace has done a fine job including the original album along with the related single sides - plus even a single that went unreleased until the Funkadelic singles collection Music For My Mother was released (which is where you can find all of these bonus tracks). So if you happen to have the original cd reissue of this first album and the Music For My Mother collection, you may not need this reissue - although I'm sure the remastered sound is much better than the earlier cd versions.
The album starts out with the psychedelic 9 minute Mommy, What's a Funkadelic? which includes the incredible wall of funk Funkadelic would become known for (stereo psychedelic effects, spacey keyboards, sweet fuzzed out Hendrix styled electric guitar, harmony vocals that drop in and out, killer funk bass and rhythm and George Clinton's drippingly psychedelic ramblings).
This style is continued as well on the album closing What Is Soul, where George Clinton rambles in a poetically drugged out manner about what he considers soul ("What is Soul? Soul is a joint rolled in toilet paper") to a playful background of "la, la, la, la".
And finally the album only 8 minute track Good Old Music adds to the other long funky psych tracks on the album with freakout electric guitar and a Sly & the Family Stone vibe (check for the Temptations bass riff in there too).
Also included are longer album versions of the singles I'll Bet You (which was covered by the Jackson 5 on their ABC album), Music for My Mother (which is also featured in a single version, and that singles instrumental b-side version), and I Got a Thing, You Got a Thing, Everybody's Got a Thing. Also, the two different b-sides to I'll Bet You are here - Qualify and Satisfy is included in the album and single version, and Open Your Eyes.
These singles show the more soulful and bluesy bent of Funkadelic, and while they stretch out on a couple of tracks (especially Music for My Mother, and the album versions of I'll Bet You and Qualify and Satisfy), these tracks tend to be closer to straight up funky soul than the more psychedelic album tracks.
The unreleased single (and the b-side Open Our Eyes) Can't Shake It Loose/As Good as I Can Feel are the least satisfying sides because they are the most derivative because they were both recorded in 1969 and As Good as I Can Feel is a Stax styled instrumental and feels unfinished, but are still worthy of checking out.