Boobs: The Junkshop Glam Discotheque
title

Boobs: The Junkshop Glam Discotheque

label

RPM

format

various artists CD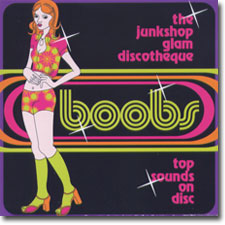 RPM continues digging through the glam trash heap for little known gems on the latest installment from the Lip Smackin' 70s compilation series. This time around there isn't a lot of novelty tracks, and while there are a few glam by numbers tracks, there's enough hard hitting great glam tracks to make this another worthy edition to the series. So if you like to hear long lost sides emulating David Bowie, T Rex, and Sweet, then check out this compilation with The Rats, Hector, Screemer, Chunky, Jimmy Jukebox, Shelby, Erasmus Chorum, Hot Rod, Sensation, Paul Ryan, Iron Cross, Light Fantastic, Catapult, Angel, Barry Blood, Ice Cream, Boston Boppers, The Sensation, Hobnail and Rock Rebellion.
Things start out strong with the T Rex inspired Turtle Dove by The Rats. If you ever wondered what happened to David Kubinec from The World of Oz (the late 60s British psych pop band) before he released a solo album called Some Things Never Change produced by John Cale in 1978, he was working in the glam act The Rats.
The Rats also recorded the song Don't Let Go, but found here is a version of this song by Light Fantastic. It's a hard rocker with a super catchy chorus and pounding piano and guitar riff. Oddly eough, both the song title and band name may have been taken from The Buchanan Brothers' hit Medicine Man (the Cashman, Pistilli, West song with the lines "You've been trippin' the light fantastic"and "Hold tight now, don't let go") from 1969.
Continuing the T. Rex love, Hobnail's She's Just a Friend of Mine combines a T. Rex melody with more basic vocal harmonies. This track was originally released as the a-side (backed with a tune called Boy Scout Jambouree) on Bell Records in 1972.
The band Hector named themselves after a cartoon character drawn by their bassist and were known for firing Smarties at their audience with a giant catapult. They released 2 singles in 1973/1974 and their Wired Up included here is an adrenaline filled song with an awesome one note guitar riff.
Zaine Griff (aka Glenn Mikkelson) played bass for the Human Instinct, formed a band with Hans Zimmer and Warren Cann from Ultravox and recorded a solo album called Ashes and Diamonds that was produced by Tony Visconti, recorded with David Bowie, played bass on The Kinks' Misfits album and worked with Gary Numan, Kate Bush, Yukihiro Takahashi and Midge Ure. On Boobs, we get to hear Zaine Griff's song Interplanetary Twist as performed by Screemer, but sadly this futuristic glam tune which reminds me of Rocky Horror came too late to hop on the glam wagon because it was released in 1976.
Albatross by Chunky uses Norman Greenbaum's Spirit in the Sky as its basis and is a real fuzzed out gem.
Kim Fowley and Michael Lloyd worked together often - including in The Smoke (not the UK band), The Cattanooga Cats and October Country, the last of which was reissued on Rev-Ola. Here they work together writing and producing the Bowiesque glam wonder of Jimmy Jukebox's Motor Boat which shows hints of Kim Fowley's interest in power pop as well.
Shelby's (Dance with The) Guitar Man is an updating of the Duane Eddy tune with some killer falsetto vocals and harmonies joined by that Duane Eddy inspired guitar sound for a rocking good time.
Paul & Barry Ryan were twin brothers who released the Two of a Kind album on Decca in 1967. Then Barry Ryan recorded two albums with his brother's songs (which was recently reissued together on one disc called Barry Ryan Singing the Songs of Paul Ryan on Rev Ola). A Paul & Barry Ryan Collection is coming out soon (hopefully with that Decca album). Here we are treated to the sweet gasser of a glam track with electric sitar guitar sounds called Natural Gas by Paul Ryan.
Little Bit o' Soul is a Music Explosion song that was also covered by Tom Petty and the Ramones, but here we are treated to the gummy glammed out version by Iron Cross.
Good Time Fanny by Angel has a sweet guitar riff which is addicting, and was produced by Andy Scott and Mick Tucker from Sweet.
Poor Annie by Barry Blood and Jungle by Erasmus Chorum were both released on the Alaska label and produced by John Shroeder who is best known for the Sounds Orchestral hit Cast Your Fate to the Wind. With Barry Blood and Erasmus Chorum, John Shroeder was given the chance to put on some glam wings, and even though Erasmus Chorum were a black cross dressing six-piece band (which sounds interesting enough), I found myself enjoying the fuzzed Girl Can't Help It simplicity of the Barry Blood track Poor Annie over the funky obnoxiousness of Erasmus Chorum's Jungle.
Shout It Out by Ice Cream is a crowd rousing shouter that was written and produced by John Springate from the Glitter Band.
The Boston Boppers' Did You Get What You Wanted was from the mad brain of Eddie Seago, who later formed the great disco rock band Liquid Gold with members of the band UFO. It sounds like Dracula is singing the lead vocal on Did You Get What You Wanted.
The Sensation are the only band with two songs on this compilation - their Baby might drive some crazy since it repeats the word "Baby" throughout the entire song (those are the only lyrics), but I liked it better than their other track Black Eyed Woman which was glam by numbers.
Both the set ending Let's Go by Rock Rebellion (a cover of the song by The Routers) and Love Is Alright (Hey) by Hot Rod were produced by John Edwards and its the chanting rocker Let's Go which comes out on top.