Popul Vuh
title

Nosferatu Original Soundtrack

label

SPV

format

CD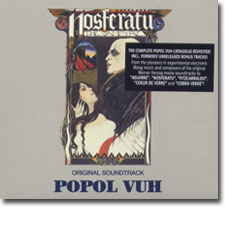 By the time Popol Vuh tackled the soundtrack to the Werner Herzog film Nosferatu: The Vampyre in 1978, they had completed the transition of their sound from Krautrock jammers to mystical soundscape pioneers. For most people who check out Popol Vuh, Nosferatu surely must rank as one of their favorites if not their favorite album. It was such a spot on soundtrack for the film as well.
Apparently, however the soundtrack album has had a spotty career throughout the years, and even though this version adds 20 minutes to the running length, there are still some discrepancies between what was heard in the movie and what is found here. Even though the disc is sequenced in the correct running order as heard in the film apparently there is some non-Popol Vuh music not included (like work by Wagner). That's not such a big deal. The bigger deal is that the first track called Brüder Des Schattens is edited down to 5 and a half minutes from a much longer 17 minute track called Brüder des Schattens - Söhne des Lichts. You can hear the full version of this song on the Tantric Songs/Hosianna Mantra reissue on Celestrial Harmonies from 1991, but I'm not sure where it appears on the current reissues on SPV.
With that being said, this is the best collection for the Nosferatu: The Vampyre soundtrack with 65 minutes of music. When it veers from the chanting introduction in Brüder des Schattens and On The Way, to the Eno-esque ambient piano melodies of Höre, Der Du Wagst, this album is a serene and masterful work of art. Through Pain to Heaven combines sitar and a folk melody on the guitars quite perfectly. Morning Sun is an inspiring as the title implies. The only time I thought it didn't live up to how far Popol Vuh had come, was on the last track Zwiesprache Der Rohrflöte which combines sitars with the prog rock guitars in an odd way. Other than that there isn't a bad track on Nosferatu: The Vampyre. Maybe someday we'll get a full 2 cd set with the entire soundtrack but until that day, this SPV version will serve the purpose just fine.