Estrus Kamikaze Ass Chomp N' Stomp CD Sampler Vol. 4
title

Estrus Kamikaze Ass Chomp N' Stomp CD Sampler Vol. 4

label

format

various artists CD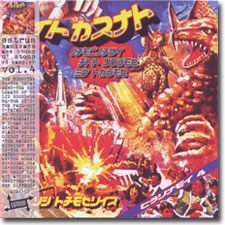 Estrus Kamikaze Ass Chomp N' Stomp CD Sampler Vol. 4 is a budget priced sampler with 19 tracks covering several genres of underground rock.
None of the tracks are exclusive, but I'll bet you only know one or two of these at most anyway.
The Bobbyteens Hurt For You (from their Cruisin' For A Bruisin' CD) has a girl-group sound.
The DT's sound like Bel-Rays, with a punk-soul hybrid sound led by husky female vocals. Proud Man was taken from their Hard Fixed CD.
On One Thought Too Much ( from their Summertime CD) The Fall-Outs sound almost exactly like The dB's when Peter Holsapple sung. The song One Thought Too Much is pretty good as well.
Federation X have 2 ton riffs that will remind you of the 90s Boston band Kudgel. Gone Too Long (from their X Patriot LP/CD) is also notable for its whistling solo - maybe a first for a band with such a sledgehammer sound.
Gas Huffer offer Hold the Roll from their upcoming reunion CD that remains genuine to their original sound. Gas Huffer were part of the punk rock / AmRep scene in the early 90s. This new material has a similar sound.
The Mummies I'm Gonna Kill My Baby Tonight ( from their Death by Unga Bunga CD) is probably my favorite song on the CD - the Mummies were incredible!
Estrus Kamikaze Ass Chomp N' Stomp CD Sampler Vol. 4 is nothing worth going out of your way to find, but it has some good tracks and is pretty cheap besides.
Faves: 1,5,6,8,16