Popul Vuh
title

Einsjager & Siebenjager

label

SPV Records

format

CD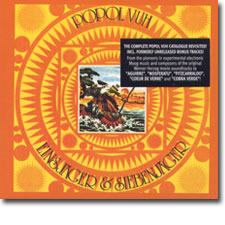 By the time of Popul Vuh's 5th album, Einsjäger & Siebenjäger (which translates as Earth & Sky) from 1974, the group was fully entrenched in the guitar based progressive rock that they would be most well known for. There isn't a wasted note on this album, as it economically conserves its energy in the meeting of composition and performance perfectly. SPV has done a fine job with this 2004 reissue with its incredible sound and added two bonus tracks.
Expanding on the sound they first mined on Hosianna Mantra, Einsjäger & Siebenjäger is a less elegantly religious sounding album, but instead is one filled with some incredible, twinkling guitar work that sounds like the sparkling burst at the birth of guitar rock. The first half of the album has 5 shorter compositions which build on some mantra like themes which lead up to the side long title track.
Kleiner Krieger serves as a short introduction to the album at a minute long. King Minos is a refreshing, breezy kind of tune with alternating rhythms and bursts of guitar sound mixed with piano melody. Morgengruss is more serene, with plucked acoustic guitars and some fine strummed melodic chords for atmosphere, and crisp guitar solos over top. The piano comes forefront on Wurfelspiel, with added flute to the guitars. Gutes Land ends what would have been the first side of the original lp on a more somber note with piano and cymbals meeting the guitarwork full on in a beautiful way that sounds like an influence on later Eno work.
The tour de force of this album is the title track, Einsjäger & Siebenjäger, a 19 and a half minute track. It combines all elements from the first 5 tracks with the added female wordless vocals of Djong Yun which send this track beyond what came before it. It's a really beautiful piece which is amongst the best that Popul Vuh has ever done.
Of the bonus tracks, the keeper is Wo Bist Du? a really beautiful track which combines the acoustic guitar and piano sound quite well. It's just too bad it fades so quickly. It has the added bonus of more wordless vocal by Djong Yun. King Minos II is a less stately version of the first King Minos, sounding more like a demo then a followup.