Lee Perry
title

I Am The Upsetter

label

Trojan

format

various artists 4xCD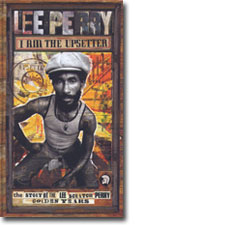 Reviewing this 4 CD box set is beyond daunting. Lee 'Scratch' Perry is practically untouchable. His hands have been deep in every era of reggae from the late 60s to today (he recently collaborated with Lazyboy for a pretty fine double 7inch).
I thought I exclusively liked instrumental dub, but after immersing myself in this set, the old wonder I used to have when I was a kid and listened to Bob Marley, Bunny Wailer, Peter Tosh, Burning Spear and The Heptones has returned. All the tracks on this set are pretty incredible.
This box set is divided into eras: Disc 1: 1968 to 1971, Disc 2: 1972 to 1974, Disc 3: 1975 to 1978, and Disc 4: 1974 to 1978 Dub & Instrumentals.
Trojan has also issued a companion box set of 7inch singles to go along with this. I have not been able to find that set in the store. The vinyl box set has completely different tracks than are here, and they are all dub instrumentals.
On disk 1, Lee Perry & The Defender's Set Them Free is a spoken piece with music below. The speaker is representing a couple of rascals that were arrested for thieving. He asks Your Honor to spare them, as their life of poverty drove them to steal. Many such heavy topics appear on this set.
Django Shoots First by Sir Lord Comic has high pitched and super low vocal exclamations over an upbeat bed of music with organ and handheld percussions. It is fun party music. The Upsetters' Return of the Ugly is somewhat similar, and just as good.
Though disk 4 is the instrumental disc, there are several tracks without vocals scattered on the other discs. Clint Eastwood by Lee "Scratch" Perry is one of my faves, with cow bell and strong rhythm.
Junior Byle's Beat Down Babylon has the beautifully voiced Junior Byles singing a catchy track, with a whip sound as the hook, and an organ with a sound that makes you want to dance.
David Barker's Small Axe closes out disc 1 with an incredible guitar lick that provides a slamming hook to the James Brown styled vocals and already catchy music.
These are only a sprinkling of my faves - in fact, all these are from disc 1. This set will be a worthy investment for any fans of Lee Perry, no matter how much of his material you already own.
Faves:
CD1: 2, 4, 10, 12, 23, 25
CD2:
CD3: 14
CD4: 6, 7, 17