International DeeJay Gigolos CD Eight, Selected by DJ Hell
title

International DeeJay Gigolos CD Eight, Selected by DJ Hell

label

International DeeJay Gigolo Records

format

various artists 2xCD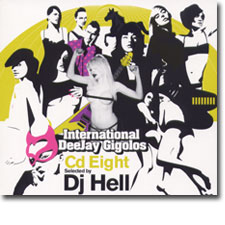 International DeeJay Gigolo Records has been around a long while. The label was around when Austria's somewhat similar Cheap Recordings label was at its peak. The label was there for the complete Electroclash ride. The label survived the lawsuit of Arnold Schwarzenegger, whose silhouette was its icon. His visage was replaced by Sid Vicious. Currently the label's icon is NYC TV Amanda Le Pore, honored on this compilation by the Hell track I Am Amanda LePore.
International DeeJay Gigolos CD Eight, Selected by DJ Hell is a good record. While other labels and artists have fled the sunken Electroclash ship into techno (Ellen Allien, Electric Indigo), italodisco (Black Strobe), rock (Ladytron) or no-wave (Chicks On Speed), Hell's label has taken on a warm sound with roots in the underground disco of late 70's NY and early Hi-NRG of artists such as Bobby Orlando and Patrick Cowley.
The set starts off with an untitled song by Swedish artist Eric Prydz feat Adeva. The song sounds like it could have been a Salsoul nugget from the late 70s updated with a house beat. Adeva has a soulful deep voice like Yaz.
Eric Prydz made waves in 2004 with his Call On Me single, which sampled the 80s Steve Winwood song Valerie. With a video as sexy as this [view the video at internetdj.com] it is no wonder he ended up on Hell's label.
Never Be Alone by Justice vs Simian was a 12inch single in Gigolo. The vocal stands front and center, making Never Be Alone an anthem as he sings because we are your friends, you'll never be alone again, well come on. The keyboard sounds like the Lovin' Spoonful song Summer In The City.
The Tiefschwarz feat Eric D'Clark track Blow is taken from the F.U.N. compilation by the Berlin club of the same name. It has keyboards that at times sound as prog as ELP, a swirling effect that recalls Steve Miller's Fly Like An Eagle, and a deep vocal with a Peter Murphy edge.
Both songs by Play Paul are interesting. His version of Green Velvet's LaLaLand gives the song new life and is very good. Love Song has vocals that sound like a young Look Sharp era Joe Jackson.
David Carretta's Lovely Toy, Savas Pascalidis Raw Mission and Boys Noize The Bomb! are all from recent Gigolo releases in addition to appearing here.
Psychonauts World Keep Turning has a heavy duty Depeche Mode vibe to it.
Crack: WAR are a band on Kid 606's Tigerbeat6 label. The Skull is taken from their Cosmic Mind Flight record. They have a no-wave feel mixed in with their singsong melodies and electronics. They remind me a lot of the early 90s LA band Charles Brown Superstar.
Xlover's So Blue the same type of vibe as the Rise NYC track Said Before. Both are complex tracks such as Linda Lamb recorded on her 2002 Hot Room 12inch.
Hell's track I Am Amanda Le Pore has nice bass. It uses a phone sound and his "ugh" thoughout.
Mihai Popoviciu's Sexy Spenders sounds like he took an innocent recording of talking with a little girl and cut it up. Added to his music, the laughs and questions of the girl sound caught in innuendo. This track is a really nice closer to the two CD set.
Some songs I don't like: Mount Sims Ashes lean heavily towards the gothic, Bookhouse Boys Neon has uninteresting computer treated vocals and a Ghostbuster's sounding synth. Kiko & Stephane D's Jack The Box has male spoken vocals I don't like.
Closest to straight-up techno, no chaser, would be Mick Will's War of the Nations, UHU's Jupiter Family , Huntemann's Sweet Sensation, Richard Bartz's Too Hot To Stop and Adriano Canzian's Aytu Hates This!. My favorite of this group would be the Richard Bartz track.
POD's Will You Special has a sound that will attract fans of radio ready darkwave post-industrial bands. I don't care for the track.
Many interesting tracks and a low price tag make this compilation a pretty good deal for anyone interested in this record label.