Eccentric Soul: the Bandit Label
title

Eccentric Soul: the Bandit Label

label

Numero Group

format

various artists CD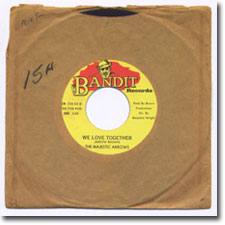 The Eccentric Soul series on the Numero Group label continues with a spotlight on the Bandit Label, a little known independent soul label out of Chicago that existed between 1969 and 1981. Numero Group has been reissuing hard to find, obscure soul label compilations including the first volume in this series called Eccentric Soul: The Capsoul Label, as well as work by the 80s group Antena and their Camino del Sol album. The 2nd volume in the Eccentric Soul series spotlights a label with a unique history and a story that is as interesting as the music.
The Bandit label was a small label run out of the house of Arrow Brown and included such talent as Brown's young son Altyrone Deno Brown (who was 7 at the time and a young Michael Jackson wannabe) and the Majestic Arrows (a vocal harmony group who were the only artists to release an entire - highly sought after - album on the Bandit label). There's also sides here by Johnny Davis (who's records are also highly sought after), Linda Ballentine and The Arrows (an early incarnation of the Majestic Arrows).
All of these artists recorded for Arrow Brown's Bandit label, and his story along with those around him make for a fascinating one as detailed in the liner notes. It sounds almost like an episode of Baretta. Arrow Brown lived with a harem of women and his family eventually trashed all of the masters and boxes of 45s in an alley after he died, while most of the artists just disappeared or died. Johnny Davis was even murdered, while the only ones to go onto anything close to fame from the Bandit label were Altyrone Deno Brown (who appeared in The Blues Brothers movie in a bit role before quitting the business to start a family) and Bandit arranger Benjamin Wright who went on to do string arrangements for Michael Jackson, Aretha Franklin, and Earth, Wind & Fire.
There's a creepiness that pervades this compilation once you know the story behind the label, and especially with some of the off-key instrumentation, the child star prodigy and the outsider status of the soul music.
Definitely the main reason to check this disc out is for the Majestic Arrows music, which is a sweet mix of dual male/female harmonies not unlike Smokey Robinson and the Miracles if Claudette (who sang in the group before marrying Smokey) had remained singing in the Miracles. One More Time Around, Another Day, Doing It For Us, Love Is All I Need, The Magic Of Your Love, I'll Never Cry For Another Boy, and We Love Together are really fine 70s soul sounds.
As a bonus, cassette rehearsal tapes with three Majestic Arrows' tracks are also included for If I Had A Little Love, Make Yourself Over, and I'll Never Cry For Another Boy which really extend out on the Majestic Arrows sound.
Johnny Davis offers up some excellent sides too with a real soulbending voice which switches between the scream and the low register to fine effect. You've Got To Crawl To Me and Boogedy Boogedy are both lost classics of 70's soul. It's a shame that Johnny Davis was murdered.
Not much is known about Linda Balintine, and apparently only two copies of her single are known to exist. That makes her two songs Glad About That and You're A Habit Hard To Break all the more sweet to hear.
The Arrows were an early incarnation of the Majestic Arrows. I wasn't crazy about their slow ballad We Have Love, and their Bring Back The One I Love only hints at the goodness that would come when they changed their name to the Majestic Arrows (The Arrows also back Johnny Davis on some of his sides).
There are two tracks by Altyrone Deno Brown - the creepy sounding Sweet Pea and the odd love song (sung by a 7 year old) If You Love Me which has hints of funkiness. Deno definitely has a lot of talent though, and hopefully there is more by him (and some of the other artists here) to make for a Bandit label volume two.