Electric Pop 2
title

Electric Pop 2

label

MOFA

format

various artists 2xCD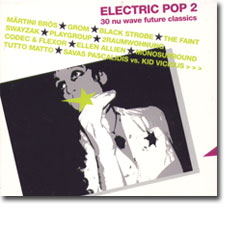 Electric Pop 2 is a very engaging compilation that came out in 2003. Most of the songs are vocal based. Like its predecessor, it is a double CD set that includes many of the big names as well as well chosen examples of lesser known artists.
My favorite tracks on Disc 1 are Space Of My Own by Atre Ju and the T. Raumschmiere Mix of 2raumwohnung's Ich Weiss Warum... Und Ich Wach Weiter.
Most of my favorite tracks are on Disc 2.
Angie Reed first gained attention as part of Stereo Total on one of their US tours. She was brought in for Stateside shows to replace part of the band that didn't make the trip over from Berlin. I Don't Do Dirty Work is a track from her Angie Reed presents the best of Barbara Brockhaus LP.
Jahcoozie is part of the WMF Recs stable in Berlin. His Tapetenwechsel is a pretty fine tune. Takemelovemehateme has feamle treated vocals and an electronic sound that your heard many times during the Electroclash era, but Monosurround bring an extra magic to the track that makes it a fave to listen to.
Both Warren Suicide's The Girl Stood There and Tim Love Lee's Drunk Love are outrageously voiced songs like those on John Dowie's 1977 Another Close Shave EP, which contained his classic I Don't Want To Be Your Amputee.