re:bird - the Electronicat remixes
title

re:bird - the Electronicat remixes

label

Angelika Kohlermann

format

various artists CD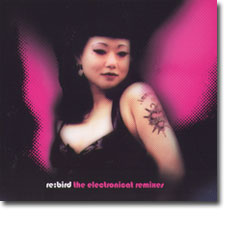 Electronicat is a crazy Frenchmen with a love for guitars and electronic music. He has consistently put the two together in recent years for some remarkable electricore music. We first heard of Electronicat with his French language version of Tainted Love - called Amour sale which was a highlight from the French Sounds compilation back in 2003. Electronicat also gave us the best remix on the Kieren Remixed 12 inch single by Shinto. One of the best moments on the How To Kill The DJ [part two] by Optimo was their inclusion of the (un-credited) Electronicat remix of Depeche Mode's Dead Of The Night. And, of course the Electronicat album 21st Century Toy from 2003 was a true highlight that year (as was the American tour Electronicat did in support of that album).
Here we find Electronicat teaming up with Gerhard Potuznik (from GD Luxxe) who produced Electronicat's 21st Century Toy album. This time out, Electronicat is given the remix treatment on RE: Bird - The Electronicat Remixes. Oddly enough, even though this album was released at the end of 2004 on Gerhard Potuznik's Angelika Koehlermann label, it actually consists of remixes of songs from the 2002 album Birds Want To Have Fun which was also released on Angelika Koehlermann (and features some guest vocals by Gerhard Potuznik).
I haven't heard the original album (except for some samples on the Angelika Koehlermann website, so I can't really compare this remix album to it, but I must say that by using the likes of
Adult.
GD Luxxe
Kid606
Original Hamster (aka Uwe Schmidt of countless alias' and the Rather Interesting label)
Tommie Sunshine
DAT Politics
Felix Kubin ( with Mense Reents)
The Hacker
Zbigniew Karkowski
Anne Laplantine
Miss Le Bomb
Diska
Captain Comatose
Chord (aka Andres Bucci)
Convertible (aka Hans Platzgumer)
Mike Ladd, and dDamage
to remix tracks helps create a remarkable and chock full disc in its own right. Each artist brings their own style to the table, and while they don't subvert the Electronicat patented style of electronics, guitar, distorted vocals and experimentation, they do add a diversity which helps this 72 minute disc remain fresh throughout.
If you like the Adult. rhythm throb mixed with Electronicat guitar and vocal mania try the Adult. mix of I Wanna Know Now. Both Original Hamster and Kid606 offer up the Tigerbeat6 sound on The Hmza Chrome Robot and Fondre Dans Les Nuages - with the Kid606 remix winning out in the end thanks to the mix of computerized voices, robotic rhythms and retro vibe.
Andres Bucci modifies the Electronicat rhythm with some mutations on Electrico (but remains close to the original Electronicat sound the most of all the mixes here).
Hans Platzgumer adds some mystery to the echoed rhythms, building collapsing synths, whispered female vocals and Mark E. Smith styled vocal on Little Fred.
DAT Politics fire up the Electronicat rhythm box and squelch it through the DAT Politics mixer. Voices on helium come out the other end. Mike Ladd's mix of Mause also has the retro rhythms that make the Kid606 mix so great and not unlike the greatness that was the lost Fat Truckers Anorexic Robot - ending up as one of my favorite mixes. The Diska mix of the same song is completely different honing in on the buzz and slap and paranoid vocals. The Hacker does what he does best on Flocon D'Etoile by creating some memorable synth lines and drives them mad with memory. dDamage's remix of Chrome Robot is the most in your face track and would be perfect to include in a wacked out DJ mix, while Zbigniew Karkowski's mix of Hello - Yes - Hello is the most experimental track here - not really even sounding like a song proper but more like and airplane getting ready for take off.
Now that we have an Electronicat remix album - how about a collection of the best remixes by Electronicat? That would be perfect in 2005.