Funkadelic
title

Free Your Mind...

label

Westbound / Ace

format

CD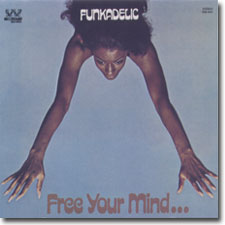 The first full length recorded solely by members of Funkadelic, Free Your Mind... And Your Ass Will Follow continues with the similar spaced out funk sounds that the debut album mined.
Ace Records has done a fine job remastering this classic funk album, outshining the original cd pressing by not only improving the sound quality tremendously, but by also offering some related bonus tracks (including singles and a radio advert).
The first Funkadelic album was great, but it's really on Free Your Mind that Funkadelic really began to inspire others, plus, Free Your Mind has one of the greatest album covers ever (especially when seen as a gatefolded LP). Free Your Mind with its bonus tracks included is much shorter than the debut reissue though. Similar to Mommy, What's a Funkadelic? from their debut album, Free Your Mind starts with the extended freakout 10 minute title track Free Your Mind... And Your Ass Will Follow. This is a great place to start if you've been curious what Funkadelic is all about when it combines alien electronics, various chantings of "Free your mind, and your ass will follow" and the "The kingdom of heaven is within", funky backbeat, wacked out distorted keyboards and that Hendrix inspired electric guitar all cohabiting in a massive stereo sound.
If that opening track is too obnoxious for you, check out the soul scream that is Friday Night, August 14th which is about cheating on your income tax to get money so you can party on Friday night.
Eulogy And Light ends the album on a socially conscious edge and uses the b-side track Open Your Eyes (which can be heard on the debut album reissue) run backwards as the backing track. It's too bad it's not longer though because at only 3 and a half minutes it seems a little anti-climatic.
Funky Dollar Bill should have been a single for the band but instead it later became the b-side for You And Your Folks Me And My Folks, the first single from Maggot Brain, their 3rd album. It's one of the best cuts on the album, and for the single length tracks it's definitely the best with its mix of raw funky guitar, tick-tacky piano and soul edge. Maybe its theme of consumerism and money greed leading one to be unfunky is what kept it from being a single.
The single version of I Wanna Know If It's Good to You (including the instrumental version) actually sounds more concise than the album version because of it having less reverb, so it's good they included both versions. Be sure to stick it out for the Instrumental version which extends the single version out.
Some More was taken from an earlier song called Headache in My Heart and is the only song on the album that seems out of place, music-wise but thankfully the distorted vocals are pretty cool.
Also included as bonus tracks (along with the single version of I Wanna Know If It's Good to You and its b-side) are a short radio advert for the album and Fish, Chips and Sweat, a b-side to I Got a Thing, You Got a Thing, Everybody's Got a Thing (from the debut album) which is another track taken from an older George Clinton tune called Baby That's a Groove which was released by Roy Handy in 1966.