Neon Meate Dream of a Octafish - A Tribute to Captain Beefheart & his Magic Band
title

Neon Meate Dream of a Octafish - A Tribute to Captain Beefheart & his Magic Band

label

Animal World Recordings

format

various artists CD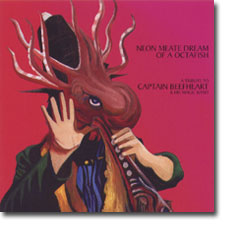 Whether you think that Captain Beefheart was part of one long elaborate joke or one of the most talented guys to come out of the 1960s, I'm not sure we will ever really know the truth. One thing is for sure, Captain Beefheart was hugely influential to many people throughout the years, so it was not surprising to me that there'd be a Captain Beefheart tribute cd. I'm just surprised it took this long to have one. Seems like something like this would have happened a long time ago, like back in the 80s. Well, this compilation Neon Meate Dream of a Octafish: A Tribute to Captain Beefheart includes an eclectic cast of characters paying their tribute from the likes of Mike Watt, Trumans Water, Jad Fair, Azalia Snail, Don Fleming, and Miss Murgatroid.
A sprawling and un-even tribute at 70 plus minutes, personally I think this compilation could have been parred down to just the best songs. It's definitely commendable that anyone tried their hand at a Captain Beefheart song, considering just how unique a vision he had. I think however that a lot of this compilation is a lot more headache inducing than the Captain intended. There's some great stuff though like Mike Watt's version of Dirty Blue Gene where he sounds like the Captain reborn. I'm a big fan of Miss Murgatroid's accordion style and she pulls out a winner with the far too short title song Neon Meate Dream of a Octafish. Trumans Water get it right on Hair Pie: Bake 2 with a tight remake of Captain Beefheart's magic rhythms. Jad Fair is helped by Daisy Cooper on Too Much Time and he makes the song his own while retaining the captain's bluesy feeling. Nel Aspinal makes Sugar 'n Spikes sound like the soundtrack to an art film and is quite nice - recreating this song beyond the original version from Trout Mask Replica so much you'd be hard pressed to recognize it. I Got Love on My Mind by Brian McMahon is a twee delight. Azalia Snail has always had a unique sound and she pulls it off with Abba Zabba. And finally Don Fleming pays tribute with a song called Three Months in the Mirror not by Captain Beefheart but which is in his spirit.
It was quite a trip, and often quite amusing to hear how the artists on Neon Meate Dream of a Octafish were able to take the genius of Captain Beefheart and either pay homage or use that magic and funnel it through their own style. I wish the cd was a little shorter with 10 songs, rather than the 20 songs found here, but I guess they wanted to make sure everyone was included. Why something like this compilation was not conceived sooner is a mystery, but it's fitting that finally Captain Beefheart has a tribute album.