title

Finery

label

format

CD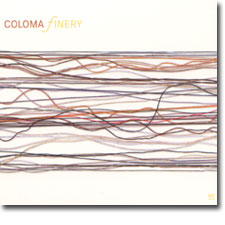 The Ware label has consistently put out good tech-house releases and compilations that I have enjoyed. Coloma is a surprising release from Ware. The music is very modern and electronic. It reminds me a little of Borneo & Sporenburg at times, but has a medieval feel to it and is song based, with lots of traditional instruments in addition to the electronics.
Coloma is a duo consisting of Englishmen Rob Taylor (vocal) and Alex Paulick (sound design & programming, lap steel, bass, acoustic and electric guitars, synthesizers, sampler, piano,organ) based in Germany.
Every song on 'Finery' is centered around the vocal. The songs tell stories. I would compare the vocals of Rob Taylor to Robert Wyatt in Matching Mole, Peter Gabriel in Genesis, or Paddy McAloon in PreFab Sprout. Each are master storytellers, and each have voices similar to Rob Taylor. Musically, Coloma remind me of the French artist Yann Tambour, who records as Encre.
The opening song on 'Finery' is the CD's masterpiece, in my opinion. The Second Closer Still just grabs you with the imagery of the lyrics, and pulls you in with the energy of the delivery. The other songs are mellower.
You Are Here is another song I really like. It tells a story of cartography. It reminds me of a book I just read, Rudy Rucker's 'As Above, So Below'. Rudy Rucker is one of my favorite writers, and 'As Above, So Below' was a departure for him. It was his first historical fiction novel, telling the story of Peter Breugel, the Flemmish painter from the mid-fourteenth century. In the book, Peter had a friend named Ortelius. Ortelius was a cartographer. You Are Here reminds me of the world I became immersed in during 'As Above, So Below'.
Summer Clothes is not one of my faves, though I don't dislike it. The vocal on Summer Clothes sounds particularly like Peter Gabriel and Robert Wyatt. This is the major hurtle when listening to Coloma. The vocals are the factor that will make some people dislike this record.
The other song I really like on 'Finery' is The Tailor. It is the song that the title 'Finery' is taken from - a tale of the tailor who sews the Emperor's clothes. Once again, the imagery of the story is so artfully presented that I am given a picture in my minds eye.
The songs on 'Finery' work best taken individually. Each is so packed with imagery, that your mind gets overcrowded listening to the CD straight through. Playing any of the songs in a radio show is sure to make phones light up, with callers asking "who is this?" It is Coloma.