Dopplereffekt
title

Linear Accelerator

label

International DeeJay Gigolo Records

format

CD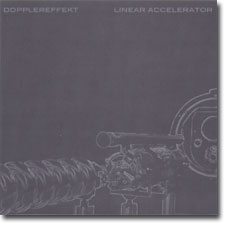 Dopplereffekt did the right thing with their first proper full length cd Linear Accelerator.
Following a path which was only hinted at on their first International DeeJay Gigolo Records cd collection Gesamtkunstwerk (of material previously released on their own Dataphysix label), but was the more exciting sound found on that disc was the right move.
Gesamtkunstwerk to me often veered into the novelty electro sound, by combining the rhythm / catchy electronic riff style found on many Aphex Twin releases (and AFX can work it so much better) with a darker throbbing industrial crawl found in the title track from Gesamtkunstwerk reminiscent of Throbbing Gristle or Coil. To me the sound found on the song Gesamtkunstwerk was the only crucial thing about that album. The rest seemed to have a throwaway quality to it, fun for a lark, maybe for a mix (which was done), but not a keeper. It sounded like they pressed a couple of buttons, and left the rhythm box going for a few minutes. There were some dark, thematic undertones throughout the cd, but it was undermined by the immature humor. I firmly believe if you missed the boat with that first cd, and you like Throbbing Gristle or Coil, jump on Linear Accelerator and don't look back. This is the true art that is Dopplereffekt. If you like novelty electro, then stick with Gesamtkunstwerk.
There is so much to love about Linear Accelerator. Starting with the first track Photo Injector, a 20+ minute creeping industrial stew which will no doubt weed out any weaklings that aren't worth the trip. Split into two sections each about 10 minutes, the track oozes and pulses at it's own pace. Niobium Resonators has a static sound throughout its 14+ minutes, not unlike Pauline Oliveros, or a vacuum cleaner spitting gravel. Graviton contains some slow ambient howls along with some micro beeps and is just shy of 14 minutes.
Things change with Myon-Neutrino (which was also released as a single). Myon-Neutrino is shorter, at just over 5 minutes, and it has a synth rhythm and haunting melody which reminds me of the BBC Radiophonic Workshop 60s and 70s recordings. If I were to have picked a single from this album, this would be the track. It has a theme song feel to it. Z-Boson could be a song straight off a 1970s Tangerine Dream soundtrack or an early 90s Namlook project. And finally, Higgs-Mechanism ends the cd on a more subdued tip, sounding all of the world like Cluster with Eno.
Linear Accelerator has 6 fine songs on it, all of them worth the price of this cd. It is not only miles ahead of Dopplereffekt's first cd, I would say this is one of my favorite cds this year.