James Chance
title

Irresistible Impulse

label

format

4xCD
The sticker on the outside of this 4 CD box set reads "The Godfather of No Wave." Those five words speak several truths. James Chance sounds very similar to a crazed James Brown in his funk stylings. And the part about him leading No Wave is sure true.
James Siegfried started off playing sax for Lydia Lunch's band Teenage Jesus and The Jerks before they had even released their debut single Orphans. As James Chance he created the amazing band The Contortions. Unlike other art damaged no wave bands, guitarist Jody Harris, slide guitarist Pat Place, drummer Don Christensen, organist Adele Bertei and bassist George Scott were great musicians that worked together quite well.
The Contortions were so singular and focused. The sound they made was radical. It had tidal waves of dissonance, but it also had precision, and the sound was never masked by distortion. It was clean and dry. James Chance spun and danced on top of the band's groove in the same way that Mark Stewart and Gareth Sager careened on top of The Pop Groups grooves.
James Chance plays sax like a dervish. He knows how to play his instrument well, but frequently made sounds that are musical communication of a freak out. As his success grew and the legends of his behavior spread, he found his muse in Anya Phillips. She managed the band and gave James his signature pompadour. Sadly she passed away from cancer at the peak of their flame. James carried on with the visions they had created, and formed the very stylish James White and the Blacks to play warped disco. James Chance's version of disco included the dancing girls and boys, but you were afraid at one of his shows, because instead of getting lost in hedonistic rapture you had to beware that he didn't pull your girlfriends hair for not dancing, or punch you in the face! Not typical disco. All this and more is captured on the 4 CD set 'Irresistible Impulse.'
'Buy The Contortions' has my favorite songs on it. I loved this record when it came out in 1979 while I was going to school at State University of New York at New Paltz, and the songs still thrill me now. The guitar work of Jody Harris and Pat Place rival the finest The Ex have created, and remain my favorite element of the band. Designed To Kill, I Don't Want To Be Happy, Contort Yourself, Throw Me Away and Bedroom Athlete are my favorite songs form the LP. This CD also includes three live songs (Throw Me Away, Twice Removed, and a version of Jailhouse Rock). The live version of Twice Removed is really fine, and I seldom enjoy live tracks by anyone. The first disc ends off with all 4 songs form the 1979 12inch EP 'Theme from Grutzi Elvis.' Faves: 1,3,5,6,9,11
'Off White' was the 1979 debut of James White and the Blacks. The record starts off with a new version of Contort Yourself. It is quite different than the version on 'Buy...' and is just as interesting to listen to. There is an August Darnell remix of the track on this disc which I had never heard. Anya sings background on it. Stained Sheets has Lydia Lunch toying and teasing James throughout the whole song. Put the children away, Lydia is naughty! She also plays guitar on White Devil.
(Tropical) Heat Wave is a James Chance classic. It is a cover of an Irving Berlin song with Anya singing as well. Tagged onto the end of the disc is the 3 song 12inch 'Soul Exorcism.' It has live versions of The Jacksons Don't Stop Till You Get Enough, plus Exorcise the Funk and Disposable You. Faves: 1,4
'Sax Maniac' was the James White and the Blacks LP which came out in 1982 on Animal Records. It continues the disco sound James was trying to hybridize with his own unique sound. The songs are good, but never particular favorites of mine, though I do like Disco Jaded and the title song a lot. Tagged onto the end of this CD is the three song 12inch 'Melt Yourself Down,' which originally came out in Japan in 1986 on Selfish Records. The EP starts with a cover of the James Brown song Super Bad. It also includes the songs Melt Yourself Down and Hell On Earth. I like the song Hell On Earth a lot. Faves: 3,6,10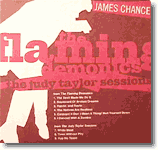 In 1983 Ze Records released James Chance's Flaming Demonics, a six song LP with jazz sidemen. I never particularly liked this record, though I do enjoy The Natives Are Restless, with backing vocals by The Discolitas (Cherie Marilyn & Robin Marlowe). There is a Duke Ellington cover (Caravan) mixed into a three song medley with It Don't Mean a Thing and Melt Yourself Down.
Of great interest to me were the 1988 'Judy Taylor Sessions.' She is James' girlfriend, and the 3 song EP she financed was never released. All three songs from this session are very good. There are lots of vocals, and not too much of the sax that blew me out of love with James Chance years ago. The session includes James Chance originals Hyp No Tease and White Meat, and a cover of the Dmitri Tiomkin and Ned Washington song Town Without Pity, from the 1954 film The High and the Mighty. The song White Meat is a song about loving white women which caused James some grief at the time. It is my favorite song from the session. Faves: 4,7
I will not even mention the tie in between this box and the sound of some of the bands coming out of Brooklyn right now. To do so would suggest that interest in these songs is a subset of interest in this currently emerging sound. In fact, the work of James Chance stands independent and above anything else.
I will leave you with my first impression of James Chance. It was outside Max's in 1979 - I can't remember what show. James had a fresh black eye. Bradley Fields (of Teenage Jesus and the Jerks) and James were laughing and vomiting m&ms into their drunken hands as Lydia Lunch counted the number in versus number out totals and identified the un-dissolved colors - they must have been swallowed not chewed. I was impressed!