Supercharger
title

Singles Party 1992-1993

label

Rip Off Records

format

CD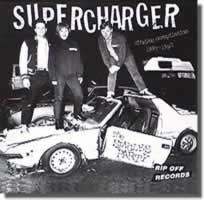 Supercharger continued in the early 90s where groups like the Germs and the Electric Eels left off during the original punk movement by creating some incredible noise-infested rock-n-roll.
Singles Party 1992-1993 is a great way to collect together the singles they put out, and where the Mummies (also reviewed this week in the gullbuy) are fuzzed out but tight, Supercharger have a more cheap (if indeed that's possible) and sloppy sound which definitely sets them apart. What I mean is that while the Mummies don't seem to give two shits but were always in tune and tight with incredible guitar solos, Supercharger give me a feeling that they really do care - so much so that they just had to pick up some instruments and bleed all over them. Even if the guitars aren't completely in tune and the drums have a shambling sound to them. They remind me of the energy of the Rezillos - even covering the Rezillos' Mystery Action, the Coasters' I'm a Hog for You Baby, and John Lee Hooker's Boom Boom - in fact the whole set has an intensity sustained throughout.
While some people might think Supercharger are over-rated (I think those are the ones who think you actually need to be proficient at your instruments), there is just as many of us who think this is pretty crucial music. I found myself really liking this Supercharger disc and it helped that the disc is the perfect album length at 24 minutes.