The Starlite Desperation
title

The Starlite Desperation

label

format

CD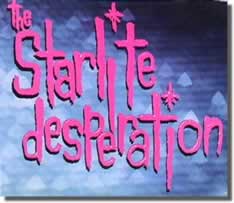 The Starlite Desperation from Detroit (via San Francisco) put out one of my favorite rawk albums of 1999 -- Go Kill Mice -- so I was excited to check out this, their debut album, released one year prior.
Unfortunately, it's something of a letdown. Without the incredibly high benchmark set by Go Kill Mice (the band's final release) I probably would have found this to be a pretty decent album of bluesy, punky rock steeped in NYC tradition. Instead, I judge this album to be merely mediocre in comparison.
Not to say there's nothing worth hearing; Thank God for Stuff is probably my fave of the album with Messed up Head a close second, both pointing in the direction of (dare I mention it again) 'Go Kill Mice.' I also dug the spazziness of The Rose and the spaghetti western blues of Barely Tongue.
While researching this review, I found some exciting news -- since singer Dante White's post Starlite Desperation band, Lost Kids, has gone on an indefinite hiatus, he's reforming the Starlite Desperation. Fab! I only hope they pick up where Go Kill Mice left off, rather than starting over again.