Ladytron
title

Softcore Jukebox

label

Emperor Norton

format

various artists CD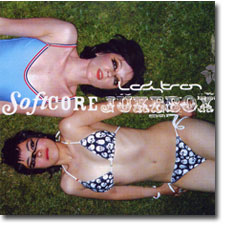 Ladytron's Softcore Jukebox is a gift for those who missed Ladytron making the DJ rounds this past year (count me as one of those, since they came here to Boston on a Sunday night). Softcore Jukebox is an interested cd, coming at a time in music history when a number of things are occurring. The death of the album has been a topic of debate, thanks to the combination lull in the music industry and the art of the download. These days, people are relying more and more on homemade Playlists and DJ sets in clubs to hear new and exciting music. So Ladytron, ever willing to remain on the cusp (or harking back to the 80s? a mixtape mentality? you be the judge....), have put two feet forward, while the rest of the music industry wallows. That is, they have given us a Playlist and a DJ set all in one: Softcore Jukebox. With one of the hottest album covers this year, Ladytron have also given us one of the most exciting mix cds.
Ladytron go into why they put together Softcore Jukebox online - it's too bad what's written online isn't included in the liner notes, because the cd buyer is left scratching their head about the why and the wherefore of Softcore Jukebox. The basic gist is this: Ladytron chose an unmixed format for Softcore Jukebox because the songs are so different, it would've degraded the originals by attempting to mix them together. They also felt the need to make everyone a mixtape - 1980s style - for everyone had come to see them live.
Included are old favorites like My Bloody Valentine's Soon (which starts the set out) and The Fall's Hit The North (part 1), which any upstanding independent rocker will know (and might be a wee bit sick of, like me). Digging a little deeper into this old school late 80s/early 90s time period, New Fast Automatic Daffodils' Big pointed the way to feel good Brit pop, where rhythm and dance based on funky guitar workouts coupled together made for some wonderful tunnage. New Fast Automatic Daffodils never really made it big, as far as I know, but they were heard by those of us who dug deeper back in the day, and it's wonderful to hear them again after all these years.
Ladytron also give us some older late 70s/early 80s music with Wire's original The 15th and the obscure and lost classic from 1984 in Cristina's deadpan What's A Girl To Do? With lyrics sung in sing song electro style like "My sheets are stained, so is my brain, what's a girl to do?" Cristina is a real find by Ladytron.
The new breed is represented by bands like !!! (with the Feel Good Of The Fall - which definitely feels good and is even better when performed live, the hoaxsters Fat Truckers' Teenage Daughter, Fanny Pack's infectious Hey Mami, Seelenluft's Manila (a group I keep meaning to listen to more), and Codec & Flexor's Crazy Girls, a group that I haven't warmed to as of yet, and one of the few dull moments found herein.
Ladytron include two of their own tracks: their cover of Tweet's Oops (Oh My) which was included as a b-side to the Evil single as well as being a live favorite; and the single version of Blue Jeans (which is different version from the album). Both these songs are worth the price of the cd. Also, helping out fellow labelmates Dondolo, Snap Ant, and Pop Levi, all bands on the Invicta Hi-Fi label (Ladytron's label) - they all fit in seamlessly to a mix of more known material quite well.
Finally, a few classic songs like the ever elusive Shocking Blue's Send Me A Postcard (a DJ's delight) and Nancy Sinatra and Lee Hazlewood's Some Velvet Morning - a great set closer - and Ladytron have really put together a great mix cd/playlist for 2003.