Gershon Kingsley
title

Music To Moog By

label

Dagored

format

CD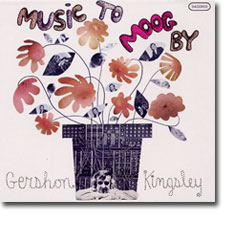 Along with The First Moog Quartet, Dagored has also released Gershon Kingsley's Music To Moog By, both of which were originally released in 1970 (The First Moog Quartet was reviewed last week). Music To Moog By was one of many Moog albums released in the mid to late 1960s which came about thanks to the Moog instrument's appearance on many pop hits of the day. In the mid-1960s Gershon Kingsley had worked on the phenomenal The Out Sound from Way In! with Jean Jacques Perrey, but afterwards they went on to other projects. Where The First Moog Quartet was an attempt at a more serious brand of music and contained a mix of originals and covers which reflected a composer's eye for the musical stage (with the Moog x 4 at the center), Music To Moog By is geared towards the pop song format, combining Beatles covers and flying, easy originals with a bouncing, rollicking Moog based instrumental flare.
Music To Moog By is a much more palatable and enjoyable album to listen to than the more experimental First Moog Quartet, and I believe it works better as a whole as well. Both albums helped pave the way for how electronics were used in music, but where The First Moog Quartet had a few moments where Gershon Kingsley tried to reach and failed (but with interesting results), Music To Moog By has many stellar electronic moments surrounded by only a few more basic instrumental moments.
The originals are startling precursors to disco, geared towards the dancefloor, soundtrack or hotel lobby, they pound away in a bliss out mode in a way only late 1960s/early 1970s instrumentals could do. Hey Hey, For Alisse Beethoven, Pop Corn, and Twinkle Twinkle are all amazing. It's interesting to know that Gershon Kingsley would encore the live performances of the First Moog Quartet performances with Pop Corn and receive such a rousing response from the audience that the song was later made hugely famous by Hot Butter (aka Stan Free - a session man for the likes of The Monkees, Arlo Guthrie, Laura Nyro, and John Denver). Gershon Kingsley give us the original version here. Hey Hey has some firehot Moog solos as Hey! is shouted throughout. For Alisse Beethoven sounds like a lost BBC tv theme song, propelled along equally by it's Beethoven inspired Moog treatment and live drummer kick. Twinkle, Twinkle is based off of Twinkle, Twinkle, Little Star, and sounds like Raymond Scott stepped into the studio on this one. I don't think you've ever heard a take on this song quite like this.
The covers work well too, with Moog moods. There's two Beatles covers in Nowhere Man and Paperback Writer. Both work much better than the version of Eleanor Rigby from The First Moog Quartet, but it would've been nice to hear some 1970 Beatles tunes done Moog style. Simon & Garfunkel's take on Scarborough Fair sounds quite eerie Moog-style and works surprisingly well with screaming Moogs doing up this traditional melody.