title

Keep On Waiting

label

International DeeJay Gigolo Records

format

12inch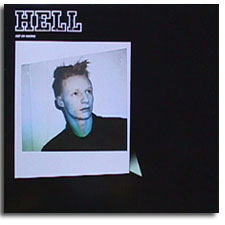 The first single from Hell's new full length has two versions of the song Keep On Waiting. 'New York Muscle' is Hell's third full length in a long and illustrious discography of remixes, compilations and 12inch singles dating back to 1993. All the songs but one are vocal oriented originals.
The first version of Keep On Waiting is the 4:34 album version, featuring the weirdly double-tracked vocals of Erlend Oye (of Kings of Convenience) . The use of such a mainstream vocalist comes as a blow to many DJ Hell fans, who has seen his label and sound move more towards pop than the hard floor instrumentals he released in the past. Personally, I don't mind vocals in a song, and these vocals are OK with me.
The second version is a remix by Tomas Andersson. Tomas Andersson has released two 12inch singles on Bpitch Control. The first was 'The Rock Acid' and the second is 'Minimal Mama.' His 5:59 take on Keep On Waiting hardens up the sound while keeping the vocals intact.
Obviously, the Tomas Andersson remix is going to be the deciding factor on whether or not you should buy this 12inch (the A-side is on the full length). I think that this single is a pretty solid purchase, as the remix really stomps in a new beat way, and loses none of the charms of the vocals.
The single was co-produced by Abe Duque, who has done a lot of work on the Disko B label. It has a great sound. The question is, can Hell (he seems to have dropped the 'DJ' part) find popularity in a post Electroclash world? Based on what I've heard (you can listen to ALL Hell's songs including the new album, on his Web site), he deserves attention for this single and his new record.