Esposito / The Bitter Springs
title

Esposito 'It's Gone' / The Bitter Springs 'A Good Provider'

label

Debut

format

7inch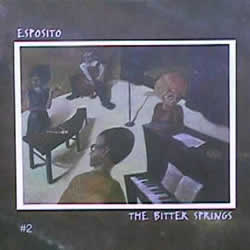 This wonderful split single came out on the tiny Toulouse France label 'Debut' back in October 1998.
It has remained impossible to find, and contains songs of top quality. It was the second release of a series that Debut ran. The first in the series has the sought after song 'French Mittens' by Piano Magic.
The Bitter Springs song 'A Good Provider' sounds like prime Vic Goddard and Subway Sect. It is a great tune taken from their Vespertine LP 'Five Die Filming This Lazy Lark'.
Esposito's song has a Beach Boys melancholic sound to it crossed with a strong Roddy Frame (Aztec Camera) vibe. There is a touch of John Lennon in the voice as well. It all comes together into a really fine song. They are just not releasing them like this these days...