Yukari Fresh
title

Erik

label

format

CD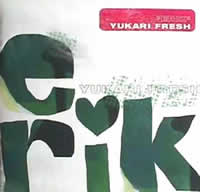 New Yukari Fresh! Yeah! As usual, the CD is short (16:18), but it is filled with great new cuts. Its been awhile since we had a release from her. The last we heard from her camp was the Miniflex CD by her musical collaborator.
The disc starts with a one minute intro called "Short Sabotage". The disc proper starts with "Napoli" (#2), an excellent song with trademark Yukari Fresh effervescence (it even has a sample of a soda being opened!). "Napoli" is prime J-pop with samples aplenty, acoustic guitars (a la Cubismo Grafico), horns, Yukari's great vocals and a pop sensibility.
"En Voiture-Lit" (#3) is a two minute cut based on a whistled tune. "Fat" (#4) is a one minute cut with vocals and everything (except reasonable length). It is pretty good too. "Vig Dorian" (#5) starts with a guitar melody influenced by the George Harrison Beatles song "Here Comes The Sun". The song develops into one of the centerpieces of this CD.
"Long Sabotage" is a two minute interlude based on the same idea as the opening cut. Finally, the disc ends (too soon!) with my favorite cut "Triplicate Quackery", a song about a spelling bee. The song is almost perfectly conceived and executed. THIS is the sound I refer to in the gullbuy as 'J-pop'. So many elements are blended in to the cut, but it exists as a solid unit, not a bunch of thrown together half-realized ideas, as so many other artists do in the name of creativity.