title

Melody AM

label

format

CD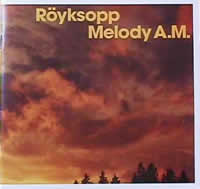 Röyksopp is Svein Berge and Torbjon Brundfland. The debut full length from this Norwegian duo is quite the record. It has become one of my faves in the weeks I've been playing it to write this review.
Initially I liked the cut So Easy. In the same way that I Monster updated the easy listening song Daydream In Blue, So Easy was built upon the Burt Bacharach song Blue On Blue, which it works into the new track with perfection. The version of Blue On Blue sampled was recorded by Gals and Pals.
The other 'easy' song on this CD samples Love In Space by Peter Thomas Sound Orchestra. The song it is used in is called She's So (#9). It starts off sounding like a track from the B-side of Bowie's 'Heroes' record before the single note piano melody brings it into easyland.
But 'easy' isn't really what this record is about. Röyksopp come from the same land as Remington Super 60 and EPA, both bands that use electronics and natural instruments in a pop setting with vocals. Röyksopp do not sing, but use several guest vocalists on this disc.
Two of the songs, "Poor Leno" (#5) & "Remind Me" (#8), are sung by Erlend Oy of Kings Of Convenience. Both of the songs are very good, particularly "Remind Me". There is one song on the disc that is prima triphop. Sparks (#3), with vocals by Anneli Drecker, has every element associated with the genre, but sounds as fresh and new as you could imagine.
Confused as to what this band is REALLY about? Erie (#2) captures Röyksopp being just themselves in beautiful fashion. It is very electronic and melodic, almost like OMD with beats. In a similar vein is A Higher Place (#6) and Röyksopp's Night Out (#7). I really like this disc.