Sweet Electro
title

Sweet Electro

label

It Sounds Different

format

various artists CD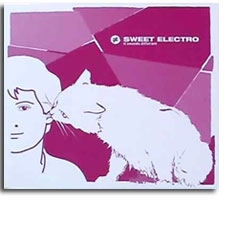 The follow-up to the 'Deep Techno' CD put out by this same label. 'Sweet Electro' has 18 songs which cover many bases, from the mellow electronic song Cathart by Isan to the Miss Kittin & The Hacker electroclash song 1982, taken from an International Deejay Gigolo 12".
There are several songs that you may have already, such as the I-F song Space Invaders Are Smoking Grass, Aphex Twin's Windowlicker, or Royskopp's Eple, but these are great cuts that sound great in the company they are placed with. Of the stuff I had never heard, several points of interest hooked me with with their charms.
The Alex Cortex song Untitled (#2) has sneaky sounds and toneless electronic pulses in an intriguing blend that I can listen to over and over. In fact the Alex Cortez song is my favorite track. Ark's cut Sucubz (Mr. Oizo remix) has an almost DJ Assault start to it with the vocalist saying "I like the way your booty shake", but the track does not go into an obscene verse like DJ Assault tracks always seem to slither. Instead the Ark cut (#11) has dirty electronics like something you would hear on the Cheap label out of Austria.
Wagon Christ's cut Bend Over (#14) has a person talking, with the voice doctored to sound like a webpage speech browser reciting a page at the lightning pace experienced users surf the web with. If you've never heard what I mean it is completely unintelligible to the untrained ear. Wagon Christ use the effect cleverly.
When I noticed that Jean-Michel was signed to Eleganz Records in Germany, my expectations were high. I LOVE the band Elektrotwist on that label. Jean-Michel's cut Connected (#17) is an electro acoustic piece that has calm parts and wilder breaks. It does not compare to Elektrotwist, but is is enjoyable nonetheless.
In all, this CD has received a lot of play in my home and car, and I think it is one of the better collections out there on the market.