Tina & the Total Babes
title

She's So Tuff

label

Sympathy For The Record Industry

format

CD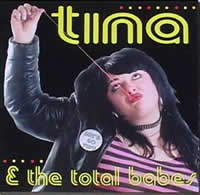 A few weeks ago I wrote about a band called Candygirl with a 7" on the Lipstick label.
Well, this Tina & the Total Babes is fronted by Lipstick honcho Tina Lucchesi (ex-Trashwomen, Bobbyteens, Neanderdolls) and includes members of Candygirl (as well as Short Fuses and The Magnolias).
A stupendous homage to the punky power pop of the late '70s-early '80s. Originals blend seamlessly with some choice covers (including Holly & the Italians' Tell That Girl to Shut Up).