Cambodian Rocks
title

Cambodian Rocks

label

Parallel World

format

various artists CD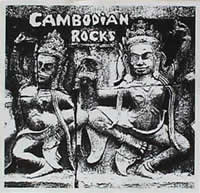 Here's the fascinating Cambodian Rock compilation on Parallel World, originally released in 1996 on LP, and finally reissued on CD with 9 bonus tracks added.
The story goes (according to the scant liner notes) that the compiler was travelling on a bus in Cambodia when he heard a strange tape and asked the bus driver about it. He then collected a handful of cassettes all containing no information about the bands all recorded in the late 60s and early 70s. He was told this style of music was known as circle dance music.
Apparently, it seems that up until 1970 in Cambodian history, the ruling Prince had been able to hold together all the different political factions. This allowed for a blossoming night club scene in the urban areas and a dirth of bar bands, some of which found there way onto this cd and all of these groups combine a fascinating and primal version of rock n roll, surf, r 'n' b - sometimes all in one song.
Finally, in 1970 - the problems in neighboring Vietnam leaked over into Cambodia and eventually a rebelling communist group called the Khymer Rouge took over the regime, squelching any other exploration of western rock n' roll. What we are left with is a fantastic glimpse into that part of the world for a scant amount of years when freedom reigned supreme.
Throughout this compilation there is stellar guitar playing - great use of the wah wah pedal, funky backbeats (track 13 is one of the better Gloria (Van Morrison) imitation songs I have heard), incredible lead guitar breaks (at times sounding like the Ventures and other times sounding like Santana), seething organ breaks - and all of it has an authentic feel to it.
Some tracks with the female vocals sound like what I imagine it would've sounded like if Yoko Ono had ever fronted the Beatles (check out Track 6 or Track 7). Although there is a sameness from track to track (it sounds there was one backup band for many different singers), this in fact helps to hold the compilation together.
I think fans of GS I Love You, Girls in the Garage, Garage Unknowns, The Ventures, The Headcoatees, Curtis Mayfield, or Santana will love this compilation.
Faves - 1, 4. 6, 7, 13 (Gloria sound-a-like), 14, 17